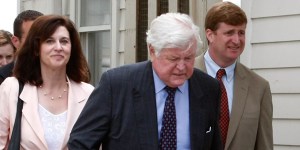 The star of the opening night of the Democratic convention is supposed to be Michelle Obama, but it's a fairly safe bet that more people will be talking tomorrow about Ted Kennedy, who apparently will appear on stage after a video tribute is screened in prime-time tonight. The presence of the ailing Kennedy, diagnosed with an aggressive form of brain cancer back in late May, figures to provide the convention with its most emotional moment. Inevitably, this will stir memories of the two previous Democratic conventions that were also brought to a halt by emotional tributes to Kennedys.
In 1964, just nine months after John F. Kennedy's assassination, Bobby Kennedy appeared before the party's Atlantic City convention to introduce a film about his brother. No one remembers too much about the film, but Kennedy's somber address, which mixed references to Shakespeare and Robert Frost, moved many delegates to tears and riveted the national television audience. There was a political subtext to the moment: Robert Kennedy and Lyndon Johnson were bitter enemies, and the overwhelming response to Kennedy's speech cemented his status as his brother's political heir – clearing the way for his subsequent election to the U.S. Senate and his bid for the Democratic nomination in 1968.
Of course, Kennedy's '68 campaign ended with his slaying just after he won the June California primary – a victory that had seemed to put him on course to claim the nomination. Instead, the Chicago convention, otherwise remembered for the tumult on the floor and on the nearby streets, featured a memorable 29-minute film from Charles Guggenheim, the director who had produced Kennedy's television ads. The film was screened at the start of the final night of the convention, airing live on all three networks. It later won an Academy Award for Live Action Short Subject. Like Robert Kennedy in '64, 36-year-old Ted Kennedy stepped forward as his brother's political heir – but not at the convention. (After Ted declined pleas that he seek the nomination himself, the Kennedy family asked George McGovern to assume Robert Kennedy's delegates and to represent them at the convention.) The youngest Kennedy had already delivered that message with a powerful eulogy two months earlier most remembered for his line (a paraphrase of George Bernard Shaw) that "Some men see things as they are and ask, 'Why?' I dream dreams that never were and ask, 'Why not?'"
Exactly how tonight's Kennedy tribute will look is unknown. But this time, there doesn't seem to be a family member ready to take the torch. The closest there is to an heir at this point may well be Barack Obama, who Kennedy himself has compared to his brother John.