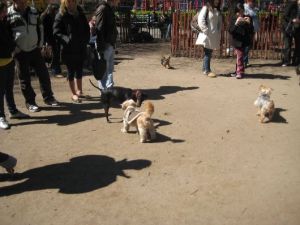 On July 22, just a couple of weeks shy of the 20-year anniversary of the Tompkins Square Park riots, the Parks Department opened a $150,000 dog run, complete with a canine paddling pool, in what was once a refuge for the homeless and all manner of fringe groups.
The inauguration of a sleeker, odorless, more expensive dog run is a fitting bookend to Tompkins Square Park's transition from a lawless swathe of parkland in the freewheeling East Village of the 1980s to the upper middle-class enclave the neighborhood is today.
On Aug. 7, 1988, the police tried, and failed, to enforce a 1 a.m. curfew in the park, provoking "bloody skirmishes" that turned the neighborhood into what The New York Times characterized as "something like a war zone." A couple of weeks later, Mayor Ed Koch described Tompkins Square Park as "a cesspool," filled with "hundreds of people who are disheveled and people who you used to call derelicts" and "very few, if any, women and children," where "sandboxes are soiled with feces and urine."
Earlier this summer, Tompkins Square Park regulars, many of them female, could once again be heard complaining about feces and urine, but this time of the canine variety. The Parks Department had cordoned off a smaller patch of land for a temporary dog run, while it completed the renovation of the city's first free-range canine compound, called First Run, built 16 years earlier. But work was taking longer than expected and the unhygienic, temporary run was starting to cause a stink.
In contrast to 1988, when "angry protestors hurled rocks, bottles, fireworks, and insults" at the riot police blockading the park and the NYPD struck back, injuring 44 people, this summer, neighbors opted to voice their grievances through more official channels, like 311.
East Village activist John Penley-who was recently dubbed the city's "cuddliest anarchist" and characterizes himself as "pro-dog"-is careful not to take credit for speeding up the renovation of First Run, but said he made "numerous complaints to 311" and put up a sign in the park reading, "This dog run stinks. Please call 311."
"[The temporary run] wasn't regularly maintained," he said. "It became a bare mud hole; then, when it dried out, it let out clouds of stinky dust that would float all around. You could see it in the kids' playground. It couldn't have been good for anyone."
These dog run worries speak to just how much the East Village as a whole has changed since the 1980s. Mr. Penley remembers when Tompkins Square Park and environs were so badly maintained that he discovered a cultivated pot field.
"There were a lot more dogs running loose," Mr. Penley recalled. "There was also a lot of drug dealing going on, so if they can't control that, who's going to worry about some dogs."
By the time the Parks Department closed Tompkins Square for renovations that included the creation of the city's first official dog run between 1991 and 1992, the East Village's gentrification was in full swing, yet "First Run" had not shed its reputation as the toughest dog park in the city by the mid 90's.
Today, the homeless people are still around, but they are clearly outnumbered by yuppies and their dogs. "Yuppies got a lot of dogs," Mr. Penley said, taking care not to sound judgmental. "I think real estate development in the neighborhood puts in a lot of higher-income people and a lot of yuppies have dogs… A lot of them have those small dogs like Paris Hilton. That does seem to be a trend among young professionals, not that I have a problem with that."
THE CHANGING DEMOGRAPHICS OF the East Village are cast in sharp relief by the interactions at First Run, where it's easy to distinguish the relative newcomers from self-proclaimed neighborhood "holdouts," like dog walker Beth Sopko.