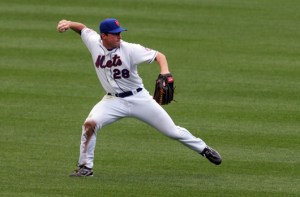 With injuries to veterans like Moises Alou, Ryan Church and Luis Castillo, the Mets have taken to using a number of young players in an attempt to patch right field, left field and second base. The result has been increased playing time for Argenis Reyes, Nick Evans and Daniel Murphy, who have combined for 208 at-bats this season.
Since Murphy's call-up, with all three playing major roles, the Mets are 12-6. Both Murphy and Reyes had hits Wednesday night in a 6-3 win over Atlanta. (Murphy's was a two-run single.)
Mets fans have been justifiably excited to see the team turn over a large portion of playing time to youth—under former manager Willie Randolph, it seemed that the primary role of New York's young players was to wait around on the bench or serve as trade bait. Jerry Manuel, out of necessity, has taken a difference tack, talking them up and rewarding their early success with more playing time.
What is noteworthy about the Mets' youth movement, particularly in comparison to a similar set of moves by the Yankees last season, is that none of the three Mets were particularly highly regarded, both by scouting-based minor league observers and stat-based projections. Phil Hughes, Joba Chamberlain and Ian Kennedy were all top draft picks and at the forefront of any Yankee prospect list. By contrast, Reyes was picked up by the Mets after the Indians let him languish in their farm system for six years, while Evans and Murphy were 15th and 20th on Baseball America's 2008 Mets prospect list—in a minor league system notoriously thin on talent.
This makes for a more dramatic story, but leaves New York with more questions than answers about what each can bring to the team for the rest of 2008 and beyond.
The biggest surprise has been Argenis Reyes, who has earned raves with his defense and surprised many with his bat following his July 3 debut, hitting .302 in his first month with New York. While he has continued to excel in the field, his bat has regressed—his season line entering last night's game was .272/.306/.309. This is likely closer to the real Argenis Reyes—his lack of patience and power made him a relatively feeble hitter even in the minor leagues, with a career minor-league line of .286/.329/.346, well below league average for a major league second baseman.
With just three walks in 85 at-bats, Reyes will need to hit for an extremely high average to justify a spot in the everyday lineup, even with his plus glove.
The news is more encouraging for Nick Evans, who hit just .226/.242/.323 in his first 13 games as a Met. He has improved that line to .311/.360/.422 in 18 games since the All Star break, and manager Jerry Manuel has named him a part of New York's left field platoon, sharing time with Murphy.
Evans has also improved his defense in left field—he had been a natural first baseman, but converted to fill the team need—and the Mets have yet to see his power. Evans hasn't hit a home run in 76 at-bats with New York, but had 29 home runs in 674 at-bats for High-A St. Lucie and AA Binghamton in 2007-2008, for two teams that play in pitchers' parks.
Still, Evans will have to replicate his minor-league hitting, or greatly improve his defense, to become even an average contributor out of either corner outfield position. His career minor-league OPS of .813 is exactly what the average National League left fielder is hitting in 2008. And should he return to his natural position of first base in 2009, he'll need to improve his offense even more—National League first basemen are posting an OPS of .823. Considering that Evans doesn't turn 23 until next January, however, that is far from an unrealistic possibility.
The most intriguing of the three young players is Daniel Murphy, and not just because he's hitting .419/.510/.651 as a Met in his first 43 at-bats. (His RBI single in four at-bats Wednesday lowered his average to just .404.)
Murphy, who is learning left field on the fly just like Evans, has had similar ups and downs defensively. But not only has Murphy hit, he has hit for power—five of his 19 hits have been for extra bases, including a pair of home runs. He has exhibited uncommon patience, drawing eight walks, and has rarely been overmatched, striking out just six times.
The most intriguing part of Murphy, however, is his versatility. Clearly, he has no hope of unseating the incumbent at his natural position of third base. But in addition to playing some left field, he also played 15 games at second base for Binghamton, holding his own defensively. With Luis Castillo's future with the Mets, long-term contract or no, uncertain, Murphy could provide a plus bat at a position where New York has few other alternatives.
If his lack of a platoon split at AA holds in the major leagues, it just adds another dimension to his ability to help the Mets down the road. (When asked about playing Murphy at second base in 2008, Jerry Manuel claimed he didn't want to put Murphy at a new position during a pennant race—leaving unanswered, of course, why he plays him in left field.)
In the meantime, Reyes, Evans and Murphy will all be asked to help shepherd the 2008 Mets the rest of the way. With the team's obvious reluctance to call up Luis Castillo, who has been playing rehab games for nearly three weeks now, and the uncertainty surrounding the health of twice-concussed Ryan Church, New York has little alternative.