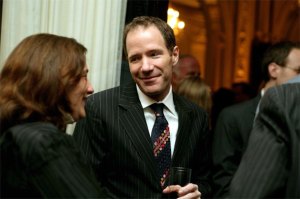 Former critic Dale Peck once famously called Rick Moody "the worst writer of his generation," but is he also the worst musician at band camp?
That's precisely Mr. Moody's concern in an essay about his experiences at Music Omi International Musicians Residency in the 2008 Music Issue of The Believer.
Here's how Mr. Moody begins his tale:
It's about two in the afternoon on the day that I'm due at Music Omi, but instead of pulling into the driveway, I'm thirty miles away at the Blandford Plaza rest area. Killing time. It's ninety-four degrees according to the car thermometer, and I'm watching the travelers of the interstate come and go in search of donuts. I'm doing this for the simple reason that I'm anxious about music camp. I'm more than anxious. It's like the first day of school. I'm going to be forty-six soon, and I have a mortgage to pay and a novel to write, but instead of attending to these responsibilities I'm going to music camp. Back when I was a kid, I went to the sort of camp where you played soccer and tennis. I sang a little bit on the side. Probably I always wanted to go to music camp, but I just wasn't musical enough.
So, was Mr. Moody any good? Judge for yourself by listening to Track 13, "Radiant Carillon" on the Music Omi 2007 music page.