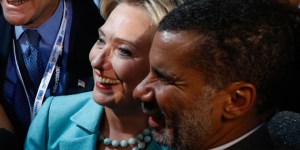 David Paterson had only been at the podium for a few moments when the cheers faded and a woman yelled out, "We love you David!"
Paterson replied, "Once again, my past is catching up with me," likely a reference to the extramarital affairs he's admitted to having, although moments later he said he thought his mother was in the audience.
Paterson emphasized the importance of recognizing Hillary Clinton's accomplishments.
The governor recalled how his father, who ran for lieutenant governor in the 1970s, was treated.
"They told him he was an asset on that ticket," Paterson said. "When they got to the general election, they never even mentioned his name in the paid television campaign ads. What do you think that did to the people that supported him?"
When Malcolm Smith took the podium he said it's not enough to be excited about Obama in Denver–state Democrats have to get ready to take over the State Senate. "Give it our all," Smith advised.
Also at the breakfast was Chuck Schumer, who said Joe Biden's speech last night spoke directly "to the Baileys," the imaginary couple featured in one of Schumer's books.
Andrew Cuomo, who was the secretary of H.U.D. under Bill Clinton, stood to speak and said, "I have never been prouder of my association with the Clintons than I was yesterday."