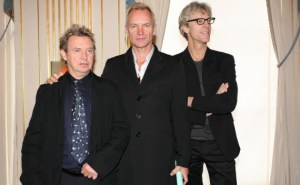 The Police held a benefit concert for New York's public television stations at Madison Square Garden on Aug.7. WNET and WLIW are psyched about the $2.35 million they raised (before expenses), but they are more excited about the prospect of that golden 20-and-30-something demographic flipping to their channels more often. The New York Times reports:
[I]t represents a new revenue stream for the stations and a chance to reach a younger demographic, said Neal Shapiro, president and chief executive of Educational Broadcasting Corporation, the station's parent. Discussions with other music promoters and artists have already begun, he said. The final take will be higher by the end of the week: bidding on an auction of instruments signed by members of the band, which ends Thursday, has already surpassed $14,000.
Yowza! That'll fund a whole lot of documentaries on the Union Square green market!
The Police ended their 96th and final show of their tour at Madison Square Garden. In an interview with The Associated Press a few days before the concert, drummer Stewart Copeland said the last leg of the tour has contained the best shows.
"As we're getting more into it and less uptight about living the legend, it is actually becoming the stuff that got us here," he said.
So is this really the end?
"Yes," Copeland said. "It was the commitment in the beginning that made it possible, that it was a finite commitment. That has actually made it a lot of fun."
Same question to [guitarist Andy] Summers…
"I'm fully prepared to say that was it, we're fine and we're done," Summers said. "On the other hand, I'm fully prepared if someone comes back in a couple of years and says we ought to give it a go. You have to consider it.
"A lot of bands, like the Eagles and probably numerous other ones, everyone sort of matures and they realize that it's fantastic business and the impetuosity that comes with being very young and walking away from something that is really successful, you kind of get over that."
He said he doesn't expect it to happen, but "that's the model that's out there for me."