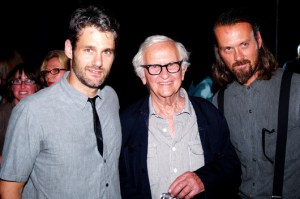 Last December, bearded designer Rogan Gregory and his partner Scott Hahn were invited to a Christmas party at the Midtown home of nonegenarian labor lawyer and free subway advocate Theodore Kheel. Mayor Michael Bloomberg was there, as was Police Commissioner Ray Kelly. ("It was definitely a bit of an older crowd," recalled Mr. Hahn.)
The duo, feeling perhaps a bit out of place, sat down with their friend Julie Gilhart, a fashion director at Barneys New York, and found themselves sharing a table with a curious older gentleman who began telling them stories.
"It was funny, I thought he might have been Rogan's dad for a minute because there is such a physical resemblance there," said Mr. Hahn.
That man turned out to be not Mr. Gergory's father, but famed documentary director Albert Maysles. The downtown friends immediately took a liking to the friendly, talkative director and invited him to their new Bowery store, Rogan Bouwerie, on Tuesday, August 26 to screen a few clips from his films like Gimme Shelter and Salesman.
"When he first introduced himself that night we had no idea who he was!" said Mr. Hahn. "When we finally figured it out I think Rogan and I just looked at each other and laughed. Then we spent about an hour together and talked about his work, our work, poetry, art, life, things."
Mr. Gregory, his hair sleeked back in the style of fashionable trucker and outfitted in a gray collared shirt buttoned to the neck and black slacks held up by suspenders, saw it as a natural fit.
"I like the idea of mixing mediums," said Mr. Gergory, who in June organized an event in honor of sculpture works by R.E.M. frontman Michael Stipe. "Al's art is unguarded, it's not pretentious, there is an honest story there but at the same time it has a bit of an edge to it where it feels like there's no camera there, and our clothes sort of feel like there is no brand there." That being said, the duo charges $228 for a pair of jeans.
"We're not big retail or commercial minded people and art is an important inspiration behind what we're doing," chimed in Mr. Hahn, who wore a slim black tie for the occasion, but tucked it into his blue shirt.
"Also, this space used to be a theatre so it seemed appropriate," added Mr. Gregory of his store, which is located in the former Bowery Theatre space.
Indeed, the space was turned into more of a theatre than an upscale boutique last night. Clothing was cleared out and in its place was a projector screen with theatre-style benches lined up in front, on which sat an audience of well dressed downtown types that one would expect to find shopping at Mr. Gregory's store. (Mr. Gregory insisted that he recognized only about one-third of the people in the room, and that most of them were Mr. Maysles' fans.)
Daily Transom found Mr. Maysles sitting in a throne-like armchair at the front of the room, munching on popcorn served to complement the theatre setting.
"They asked me to come down here and they outfitted me with some clothes," said Mr. Maysles, pointing down to a pair of navy blue trousers.
And how does the 82-year-old director like his new threads?
"Oh, yeah, I like it," he said excitedly. "But I have acquired so many clothes over the years I don't think I need any more."
"He's got amazing style himself, although he's not wearing the socks I love," said Mr. Gregory. "He's got these fluorescent green airplane socks that are just amazing."

Mr. Maysles said that he doesn't get to come down to the Bowery that often; he's an uptown man. For years, he lived at The Dakota, and he recently moved his home and office to Harlem. But Mr. Gregory, whose store just moved into the area two months ago, is pleased with the location.
"I like the neighborhood because it's like no man's land. But I hope it doesn't become overrun like the Meatpacking District," said Mr. Gregory, perhaps referring to the recent arrival of other high-end stores like John Varvatos and Blue & Cream nearby. "There are more crackheads and methheads on the Bowery than anywhere in the city so I just hope it retains some of that flavor."