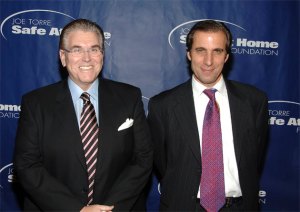 The most famous sports radio talk show ever, Mike and the Mad Dog, is done. Chris Russo announced Thursday night that he wouldn't return to WFAN and his co-host, Mike Francesa, will now host the 1 p.m. to 6:30 p.m. slot on WFAN by himself.
On Thursday night, pundits on outlets like SNY and WFAN were talking about how Mike and the Mad Dog "revolutionized" sports talk radio. This isn't true. No one ever followed the Mike and the Mad Dog lead. Russo and Francesa, both Long Island natives, had voices constructed for a street corner, not a radio show. No one in their right mind would ever hire them today, and the studied yo-yos that pervade sports radio stations today sound nothing like them. Mr. Francesa's voice is too full; Mr. Russo's squeal too shrill. And yet, behind those voices, like a couple guys you know, was where all the magic happened.
Their faults were many: Mr. Francesa was more than occasionally a blowhard and often horribly condescending; most times, Mr. Russo had no idea what he was talking about. And still, you always came back to 660 AM, particularly after a major New York sports story. When the Jets traded for Brett Favre, someone asked this reporter what Mike and the Dog's take was on it. It was a perfect moment to reflect on what they have meant to the city. For more than 20 years, they set the table for debating New York sports, and like any great duo before them, the whole was dramatically greater than the sum of their parts.
As New Yorker writer (and Observer alumnus) Nick Paumgarten wrote in 2004, "Francesa and Russo are as much a part of the city's soundscape as jackhammers and accelerating buses, and, depending on your cast of mind, they can be as mesmerizing or as odious as the Teletubbies. Though their faces may be made for radio, their voices, by most measures, are not."