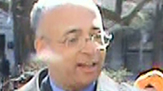 DENVER—City Comptroller Bill Thompson said he's open to extending the city's term limits law so lawmakers could serve three four-year terms, instead of only two.
"I think term limits are a good idea, no matter whether it is two or three terms," Thompson told me in the lobby of the Sheraton Hotel, where he just checked in.
Then, referring to members of the City Council, who are reportedly pressuring Speaker Christine Quinn to support an extension, Thompson said, "No matter what they do, it should go back before the voters. I firmly believe that."
Michael Bloomberg has recently softened his opposition to repealing term limits, and is reportedly considering trying to run for a third term as mayor.
UPDATE: Not everyone wants to talk about term limits. I asked City Councilwoman Tish James about the issue when I saw her in the lobby of the Sheraton Hotel earlier this afternoon. She said, "I'm on vacation. That's my answer."