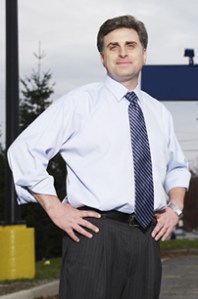 Andrew Grossman, a top-tier Democratic operative who founded an anti-Wal-Mart group is on board with Bill Thompson's 2009 campaign. (Thompson is widely expected to run for mayor).
Grossman was described as a "political strategist" in this story about the comptroller's campaign spending, and a Thompson campaign aide explained Grossman's role as "a general consultant", adding, "He's helping put together the infrastructure of the campaign." Grossman was paid $39,500 between March and July of this year, according to records with the city Campaign Finance Board.
Grossman comes to the campaign with considerable skills as an organizer. According to the bio on his company's web site, Grossman worked at the Senate Democratic Campaign Committee from 1999 to 2003. In 2004, he was the director of Polling and Targeting for the George Soros-funded group, America Coming Together. In 2005, he founded Wal-Mart Watch. Calls to Grossman's Connecticut office were not returned, nor was an email.
 
Other national figures officially signed up to work on city races here next year include Joel Benenson, Doug Schoen, and Geoff Garin.