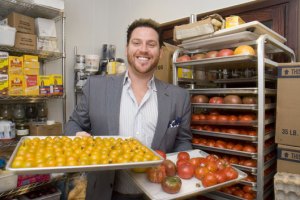 The chef Scott Conant has a tiny statue of the Hindu deity Ganesh hanging around his neck. "Ganesh is the remover of obstacles from your path," he said.
Apparently, it's working. After a nasty split with partners in two uptown restaurants last year, Mr. Conant, 37, has returned with a vengeance, opening his own Italian restaurant, Scarpetta, to rave reviews on May 13. On July 30, he received an enthusiastic three stars from The New York Times' Frank Bruni, causing an immediate uptick in business. "Fuggedaboutit," Mr. Conant said the other day over a lunch of his best dishes. "It's awesome. Go look at my books tonight and yesterday. It's August and we're killin' it—just killin' it. Spectacular!"
There has also been some unwelcome attention. "A couple of weeks ago, we had a vice squad show up," Mr. Conant said. "About 20 cops, the Building Department, the State Liquor Authority, the Health Department, the Fire Department—you name it. … I was horrified. They just took over the bar, putting flashlights in customer's faces. … It was four days after our New York magazine review came out, so we were jamming and completely overwhelmed. The kitchen was a mess.
"The lieutenant came up to me and I said, 'Listen, man, this is a three-star restaurant.' He was like, 'What do you mean?'"
Authorities had mistakenly thought they were raiding Gin Lane, the boozy nightspot that previously occupied the new Scarpetta space.
But one might just as easily misinterpret the confused cop's remark as: Three stars? Italian? Really?
New York City has long overflowed with red sauce, but few high-minded foodies ever considered it haute cuisine. For years, fine dining meant French: La Caravelle, Lutece, Le Cirque. And, later, fusion: Jean-Georges, etc. Yet over the past decade or so, Italian's fresh, lusty flavors have increasingly muscled into three-star territory.
"I'm way too modest to say that Italian is the new French," Mr. Conant said.
But still, the facts speak for themselves. There were a few respectable Italian eateries in New York at the time of his arrival in 1990. Born in Waterbury, Conn., Mr. Conant cited Coco Pazzo and San Domenico, where he interned as a student at the Culinary Institute of America. But it wasn't until Mario Batali burst onto the scene with Babbo in 1998 and subsequently brought his distinctive brand of cooking to television audiences around the country that Italian food seemed to finally turn that corner.
"I think it added a new level of credibility," Mr. Conant said. "It became approachable for the person sitting at home watching TV and saying I can do that. I can make fresh pasta like that. … It just became cool. Mario's a cool guy. People wanted to cook like him. People wanted to eat like him."
The good-looking Mr. Conant, whom GQ food critic Alan Richman has called "probably second only to [Batali] as New York's favorite Italian chef," now seems poised to become Molto Mario's heir apparent.
"Everybody would love to have that restaurant that's 10 years old at this point and they're still booked a month in advance," Mr. Conant said of Babbo. "Everybody wants to be that guy. Who wouldn't?"
Another Scarpetta is already slated to open inside Miami's Fountainebleau Hotel this November. 
The expansion of the brand might seem awfully quick. But he's had plenty of time to plan after abruptly quitting his posts at Alto and L'Impero last year.
Mr. Conant caused quite a stir upon explaining his split with owner Chris Cannon to New York Restaurant Insider magazine: "There is such a thing as the Peter Principle, where people rise to their level of incompetence. And it just became clear to me that maybe I was associated with a group that was in that category."
He has since tried to smooth things over, complimenting his replacement, chef Michael White, in an interview with the New York Post and telling this reporter, "Those restaurants were great and they're still great—I'm just not a part of them anymore."