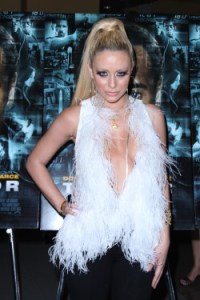 On Thursday evening, Kevin Christiana, a Project Runway Season Four veteran, watched as the principal cast of Traitor celebrated the New York premiere of their film at the Fillmore at Irving Plaza. Don Cheadle, Guy Pearce, and Saïd Taghmaoui squeezed onto a pair of plush red couches with Jeffrey Nachmanoff, who is making his directorial debut. The Daily Transom wouldn't have pegged Mr. Christina as a fan of international adventure thrillers about counter-espionage operations, but then again, isn't that just a microcosm for Project Runway these days?
"It's a show!" sighed Mr. Christiana, when queried about a recent New York magazine article that chronicled the rivalry between Project Runway judge and recent Marie Claire hire Nina Garcia, and Anne Slowey, Fashion News Director at Elle and the Miranda Priestly-esque star of the CW's forthcoming battle-of-the-fashion-assistants Stylista. "I don't take things so seriously when it comes to fashion. We're not curing cancer, we're making clothing."
The designer and FIT grad has been keeping quite the busy schedule since being auf'd for not creating the perfect prom dress. His many upcoming projects include a men's line "for guys that have, like, real bodies," a women's line "for women who have actual curves," and frequent guest slots on the next season of The Rachael Ray Show. Mr. Christiana also mentioned that he and fellow season four alum Jack Mackenroth (the contestant who left the show mid-season after getting a staph infection) are working together on a new series. "It's the odd couple gay-straight thing," said Mr. Christiana. "I can't really talk about it because I'm under contract," he added, although he did tell the Daily Transom it wouldn't be on Bravo's fall line up. Lifetime, perhaps? They lurve their edgy reality TV these days!
Seated next to a pretty brunette a few feet away was Jesse Williams, who plays an art-student-slash-nude-model-hunk in The Sisterhood of the Traveling Pants 2. Earlier, Mr. Williams told the Daily Transom what it's like when your first Hollywood movie is a total estrogen-fest.
"It was outstanding," he said. "Everybody was really sweet." Those bright blue eyes are even brighter in person! But did he catch up on all seven seasons of Gilmore Girls to prepare for his romantic moments with Alexis Bledel? "I watched the first movie several times, and I did watch some Gilmore Girls," Mr. Williams said, sans any telling eye-rolls that might bespeak of his embarrassment. Delighted, we pictured him taking in a Rory-Lorelai marathon at his apartment in Crown Heights.
British rapper Estelle preceded Mr. Williams on the red carpet prior to Traitor's screening. The recording artist is about to leave for a tour with Gym Glass Heroes and the Roots. That doesn't mean she doesn't have time to read blogs, though. In particular, a blog penned by one Kanye West, whose vocals were featured on Estelle's hit "American Boy."
"If you look at the tone of Kanye's blog," she said–waving away the accusations that Mr. West doesn't know a comment from an RSS feed and pays someone to post items for him–"you cannot doubt that it's Kanye. Just–it's Kanye. Please!"
Not long after her, Danity Kane's Aubrey O'Day tottered past in snake-skin boots, black leggings, and a white feathery vest that displayed a rather prominent décolletage. "I don't even use the phrase," Ms. O'Day replied, fluttering her eyelash extensions when we asked how she personally interprets the phrase "bitchassedness," which P. Diddy thrust into the vernacular on the last season of Making the Band. "It's silly!" giggled the singer, who is currently playing Amber Von Tussle in Hairspray on Broadway.
Given her fanciful wardrobe, Ms. O'Day appeared amenable to the idea that she was a kind of teen idol, although Traitor's leading man, Mr. Pearce, had no advice to offer the latest crop of young things–say, High School Musical's Zac Efron?–attempting to make a serious crossover similar to his own. (Mr. Pearce got his break starring in the Australian soap Neighbours. Just like Natalie Imbruglia and Kylie Minogue!) "I'd done a lot of theater growing up, so this TV show was just one of the many things that I've done. Obviously I had to become aware of the fact that it became the most popular show in England and across Europe. That was a bit of a struggle to deal with, in a way," he said.
Now, though, the English-born, Australian-raised actor seems to enjoy defying stereotypes at every turn: He's playing a truth-seeking FBI agent in Traitor, which opens August 27, yet stars in a "quite different" warm-fuzzy Adam Sandler film, Bedtime Stories, out this Christmas. And last night, nobody could stop talking about the horn-rimmed Buddy Holly glasses Mr. Pearce donned for the premiere, which he wore with the casually blasé flair possible only to those who have transcended their heartthrob status. Take that, Rivers Cuomo!