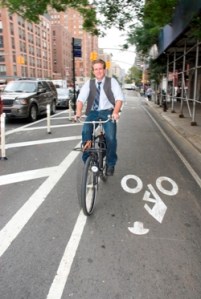 From an interview in tomorrow's print Observer with Paul Steely White, executive director of Transportation Alternatives:
Last question: mayoral race. Are there any candidates that you guys are supporting?
First, let me say that the 2009 elections are going to be extremely important, and we are looking at the 2009 elections as the make-or-break year for sustainability solutions being expanded or being rolled back. Right now, we are talking to a number of candidates and educating them about not just continuing Mayor Bloomberg's legacy but also expanding it. We like what we see from some of the candidates, but in the coming months we are going to ask them to be much more specific about what they are going to do to ensure that our transit system is brought to a state of repair, and that necessary expansion programs are done and done on time, and that the city's investment in the M.T.A. continues to increase, not decrease as it has done over the last several years.