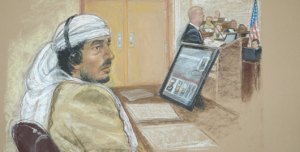 The Challenge: Hamdan v. Rumsfeld And the Fight Over Presidential Power
By Jonathan Mahler
Farrar, Straus and Giroux, 352 pages, $26
Had you been asked to assemble the legal team to brief and argue before the Supreme Court a case that would result in "the most important decision on presidential power ever"—as one noted court observer called Hamdan v. Rumsfeld shortly after it came down in 2006—your first choice probably wouldn't have been the odd couple that found itself at the center of this particular constitutional storm: an irreverent, long-winded defense lawyer with attention-deficit disorder who graduated at the bottom of his Navy class, and a brilliant, bullheaded young law professor who didn't even know where he was supposed to sit in a courtroom.
But these two men were the core of the team—assisted by several high-powered law firm partners—that took up the defense of Salim Ahmed Hamdan, a 30-something Yemeni with a grade-school education who, until 2001, had a day job driving around the world's most wanted man, Osama bin Laden.
Mr. Hamdan, who was picked up in Afghanistan in the panic-filled months after Sept. 11, was taken to Camp Delta, at Guantánamo Bay, where he soon became the administration's first target in its attempt to try, by executive-ordered military commissions, the "worst of the worst."
Charles Swift, from the Judge Advocate General's Corps, was Mr. Hamdan's assigned defense counsel; Mr. Swift soon realized that the case was far more complex than he could manage alone, so he enlisted the help of Neal Katyal, a Georgetown law professor and former Supreme Court clerk who'd already published a law-review article strongly critical of the commissions.
The Challenge, by Jonathan Mahler, is a step-by-excruciating-step retelling of the three years Messrs. Swift and Katyal spent researching, writing, traveling, interviewing and arguing—both in the courtroom and with each other—as they raced the clock to stop the government's efforts to try Mr. Hamdan on its terms. Or, as Mr. Swift puts it, "gazing down the barrel of 1600 Pennsylvania Avenue."
They were ultimately victorious, in the sense that the Supreme Court ruled in their favor and invalidated the military commissions as they were constituted at the time. But it's a strange sort of victory in which you must tell your client, "This doesn't mean you go free. It just means you have a better chance at a fair trial."
Sure enough, Congress subsequently created a commission system that passed constitutional muster. On Aug. 6, the day after Mr. Mahler's book was released, the commission convicted Mr. Hamdan; he was sentenced to five and a half years, of which he has already served all but a few months.
ON ONE LEVEL, Mr. Mahler's story is of a piece with a raft of other books about the administration and its behavior after Sept. 11. It's clear, for instance, that the commissions, which were established essentially in secret, were never intended to provide anything resembling the protections inherent in a civilian trial. The goal, as at least one former prosecutor has since stated openly, was to get as many convictions as quickly as possible, with virtually no regard for procedural niceties such as allowing the accused to be present at all stages of the trial, or prohibiting evidence obtained through torture.
"It was an inversion of how the process of meting out justice typically works," said one prosecutor. "Normally you have the crime first and then you find the criminals. When we showed up, they already had the criminals. We were tasked with finding the crimes."
The book is both exhilarating and exhausting, much as the experience itself must have been. It's also not, in the end, about Mr. Hamdan, but about Charles Swift and Neal Katyal.
Mr. Mahler is diligent in detailing the immense difficulty both lawyers faced in representing a man who spoke no English, lived for long stretches in what amounted to solitary confinement and had virtually no idea what was happening in his case, let alone in the world at large. Their visits with him at Guantánamo were highly restricted, at best, and each time they returned to a country anxious to make someone pay for Sept. 11.
Both men spent months at a time buried in case law, constantly preoccupied with writing and rewriting drafts of their latest brief. Mr. Swift's marriage collapsed under the strain, and after the ruling he was essentially fired from the Navy. Mr. Katyal, whose father died of brain cancer during a particularly intense period of litigation, often left his wife alone to care for their three young children.
MR. MAHLER'S PROSE IS clear and sure-footed, but he gets bogged down in the smaller points of procedure, and at times seems to be struggling with his own inner Katyal and Swift—the dogged, punctilious methodologist versus the inspired moral crusader. The problem is that the former too often prevails. Although Mr. Mahler is careful to remind us that for Mr. Hamdan, the pressing issues are not the abstract legal ones but the small indignities of day-to-day life at Guantánamo, the author occasionally loses sight of what makes this—or any narrative—a compelling human drama.
As former Solicitor General Walter Dellinger said of the ruling in Hamdan, "The farther back you stand, the more significant it appears." It's the same with this book.
As any lawyer knows, the law consists of vast swaths of procedure punctuated, as in opera or baseball, by explosions of drama and intrigue. It doesn't matter that a good argument can be made for any particular detail in the book; an engaging retelling of a long legal battle must telescope months or years of mindnumbing motions, stays, reply briefs, reconsiderations and the like in order to linger on the good parts. Anthony Lewis' Gideon's Trumpet—a masterpiece of the genre, as well as an obvious model for Mr. Mahler—focused on one man's petition to the Supreme Court, and quoted extensively from the oral argument there, to great effect.
Likewise, The Challenge kicks into high gear as the lawyers prepare for their argument before the Court. Mr. Katyal's anxiety over what is essentially his first legal argument is palpable; he practices for months before the best legal minds in the country, and beats himself up for days when it doesn't go well. In the moments before the case is called, he thinks he's made a terrible mistake by insisting, against all advice, on arguing it himself.
No doubt, the preceding 250 or so pages make the climactic argument at the Supreme Court that much more thrilling. They also create a critical historical record of a watershed moment in American history. Still, one wonders how many non-lawyer readers Jonathan Mahler will have lost along the way.
Jesse Wegman is managing editor of The Observer. He can be reached at jwegman@observer.com.