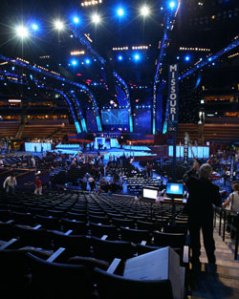 DENVER—On Aug. 25, The New York Times' chief political reporter, Adam Nagourney, was looking for a pair of seats for an interview in a sawdust-ridden tent in the parking lot of Denver's basketball arena that served as the paper's media workspace.
The Times wound up bringing so many staffers to this event (60!) that nearly every seat in its space was occupied in that area; he walked over to Bloomberg News, where there were another 30 workstations set up.
The thing about the conventions is that so many reporters come to them. The result is that it's rare for anyone to write anything important.
"I don't like events where there are a gazillion reporters," Mr. Nagourney said. "If you come here and David Axelrod came walking down the aisle over there, there'd be 500 people around him, and you'd be getting the most boilerplate quotes. So what's the point?"
What is the point?
"I feel like this is the dumb state of reporting in a presidential campaign," said Michael Scherer, a writer for Time magazine. "Everyone is spending time and millions of dollars to break something six hours before it's announced."
Adjustments have to be made. Greta Van Susteren, the Fox News anchor, spent Aug. 25 blogging—"I like the blogging!" she said—and produced 10 blog posts, including an online poll: "What do you think Michelle Obama thinks about Hillary Clinton?"
"There is no intrigue [at the convention]," she said. "But the networks can't not be here, which is a problem. Not a terrific amount of news is going to happen. We have to be here in case something does happen. It's the same reason we send reporters down to Crawford to sit there during the president's vacation. In case something does happen."
"When we learned Kennedy would appear tonight in the hall, I quickly wrote a Web story—a short six-inch story," said David Lightman, a McClatchy reporter who has been covering conventions since 1980.
At Media Pavilion 4, where The Times, Bloomberg News, Reuters, Congressional Quarterly, McClatchy, the Hearst papers, the New York Post and the Daily News were all stationed, there's a "Media Spa." It didn't look like one of those places Victorians went to in Switzerland. At noon on Aug. 25, an hour after it opened, the hundreds of reporters there would find three Diet Cokes, three Sprites, one regular Coke, some peach and strawberry fruit blend Dannon yogurts, three oranges, some type of pumpkin bread and four bagels, including two onion, glistening under the giant fluorescent bucket lights. The floors are rough plywood.
"I don't like it," said the Bloomberg News editor Al Hunt, who is covering his 17th convention. "It's chilly and you can't hear anything. Have you been to the porta-potties here? Because don't go."
"No, I'm not interested [in a massage]," said Mr. Lightman. "Not to sound highfalutin, but this is my job. I might grab a Diet Coke, but that's it."
That is, if there's even one to grab.
Gail Collins, the Times columnist, seemed eager at a chance to run away from the sawdust-filled Media Pavilion.
"There's 10 million people watching TV, and if we can't find something that's not on the TV to be useful about, then what the hell is my paper paying me to be here?" she said. "I feel morally obliged to be running around futilely trying to find something.