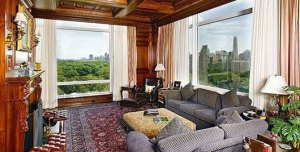 James H. Herbert II, the chairman and chief executive of the very ritzy First Republic Bank, listed his penthouse at Trump Parc East on Central Park South earlier this month for $38 million, nearly four times what he paid back in 2005.
That's a sign that the annual onslaught of post-Labor Day real estate listings (most brokers don't bother putting anything good on the market in hot, deadened August) will be as giddily ambitious as always. And considering that the apartment is being listed by Stribling at 25,866,600 euros (monthly maintenance fees and taxes are given bi-continentally, too), it's also a sign that brokers are still hoping to lure the gaggle of foreign buyers that have been feasting on Manhattan real estate—despite evidence that the dollar is regaining some ground.
Stribling's bow-tied executive vice president, Kirk Henckels, said the dollar-and-euro pricing will start appearing on all of the brokerage's listings. "It came up in a meeting," he said, "and we all thought, 'Well, of course, why not.'"
The euro is already accepted by stores in tourist-swamped enclaves like Times Square (not to mention the Hamptons), so the currency's expansion into 10-room, four-bedroom penthouse listings isn't entirely a shock. "It's just like if you can speak to somebody in their own language," said Alexa Lambert, who's listing this apartment, "that's always helpful."
(But there are still kinks: the Trump penthouse is listed at 4,400 square feet and 1,341 square meters, which, as any self-respecting geek will tell you, is a mistranslation. Listen up: 4,400 feet equals 1,341 meters, but 4,400 square feet equals 409 square meters.)
Either way, Mr. Herbert's $38 million penthouse listing is quite expensive. According to deeds, a trust connected to the executive paid only $10 million for the property three years ago—though at the time, Donald Trump said Mr. Herbert was spending about $13 million on the apartment, and then $2 million more to tear down the space and construct a new, bigger penthouse.
His high-tier San Francisco-based bank ("We never forget that our role is to serve families and their selected charities," their Web site says) was sold to Merrill Lynch last year for $1.8 billion. According to records, Mr. Herbert took out a $7 million mortgage that was financed by First Republic, though the terms of the arrangement aren't clear. He "respectfully declined the chance to be interviewed," according to an assistant.
When pressed about the apartment's asking price, Ms. Lambert, who handled sales at the newly redone Plaza, pointed out that there's a lot of bonus outdoor legroom to go with the 4,400-square-foot interior: One of two terraces is 3,400 square feet, according to the floor plan (which also lists a gym, two dressing areas, a closet for audio equipment, and fireplaces in the master bedroom, living room and library).
Two foreign buyers, from France and Saudi Arabia, are already interested. "One is in real estate," Ms. Lambert said. "And I think the other is just rich."
mabelson@observer.com