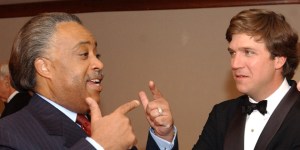 DENVER—I was hanging out at Al Sharpton's reception on Larimer Street, when I heard a familiar voice.
It was Tucker Carlson, the conservative television commentator, and I was surprised to see him. He told me he went to Africa with Sharpton in 2003 and considers him "a friend."
And Sharpton's people apparently feel likewise. Democratic Assemblywoman Crystal Peoples of Buffalo said seeing Carlson at the event "makes me think we have a friend in the media."
When I asked Carlson if Barack Obama's rise in national politics has diminished Sharpton's role at all, Carlson said, "Not in my heart."