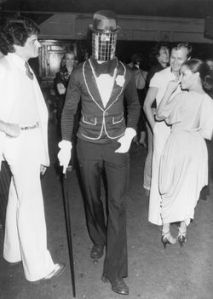 Last weekend, New York nightlife suffered another black eye with the gruesome death of 24-year-old Ingrid Rivera, a ticket agent for British Airways, who was beaten to death at the Times Square karaoke club Spotlight Live during Lil' Kim's 33rd birthday party. Syed Rahman, a 24-year-old barback, was arrested Thursday and charged with murder; he left her body on the roof of the club, where it was discovered by a maintenance worker. We wondered how many other nightclub patrons had met with tragic ends in the last 20 years. (One disconcerting discovery: bouncers, who are supposed to provide some modicum of security, figure in a disturbingly high number of incidents. Mothers, don't let your boys grow up to be muscle!)
April 17, 1989: Virgil Charles Sylvia, 21, is stabbed to death outside of "illegal, floating club" Payday near Gramercy Gramercy Park.
March 25, 1990: 87 people are killed at Happy Land, another illegal club in the Bronx, when Julio Gonzalez sets the place on fire after arguing with his ex-girlfriend, who was a coat check girl there.
Nov. 23, 1990: David Lemus and Olmedo Hidalgo shoot bouncer Marcus Peterson outside of Palladium, the dance club on 14th Street that is now a New York University dorm.
June 28, 1991: Steven Venizelos, owner of trendy East Village after-hours spot The World, is found shot to death on the club's balcony.
January 19, 1995: Sean McKenzie and Orlando Parker are killed at East Flatbush club Legend when a man opened fire in the middle of the dance floor.
June 21, 1996: Brothers Victor and Simon Dedaj beat, stab, and shoot to death a waiter and a bouncer at the Upper East Side outpost of Scores.
April 9, 2001: After being ejected, 16-year-old Terrence Davis is stabbed to death outside of Tunnel at West 27th St. and 12th Ave.
April 13, 2003: Bouncer Dana Blake is stabbed to death outside of Guernica on Avenue B by Isaias Umali after a dispute concerning smoking in the club, which had just been banned.
May 23, 2006: Bouncer Stephen Sakai shoots Gustavo Cuadros to death outside of Opus 22 in Chelsea.
February 25, 2006: Graduate student Imette St. Guillen is choked to death by Darryl Littlejohn after leaving The Falls in Soho, where he was a bouncer.
July 25, 2006: 18-year-old Jennifer Moore is killed after leaving Chelsea's Guest House.
Feb. 3, 2007: Orlando Valle dies after being pushed down an elevator shaft by actor Granville Adams at BED in Chelsea.
Nov. 23, 2007: Shamel McKinney, a friend of the rapper Fabolous, is stabbed to death at Duvet in the Flatiron district.