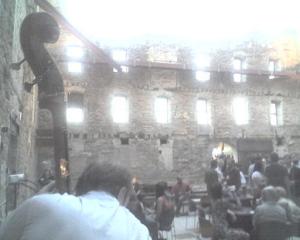 D.C.-based Hearst News Service reporter Jennifer Dlouhy was standing on the eighth floor of the Mill City Museum at a pre-convention media party last night, overlooking the Mississippi River in downtown Minneapolis. She said that compared to Denver, where the Democrats just wrapped up their convention, "It's far better food, a far more beautiful backdrop."
"But," she said of the reporters, "they're not having as much fun. Maybe they're just tired."
Only two days ago, the Democrats ended their convention, which was rich in political celebrities but somewhat poor, at times, in logistical conveniences.
"I never thought running water was a luxury until I went a week without it," said Dlouhy, who expressed relief that unlike the "media tents" in Denver, her filing station will be inside a building with both electricity and plumbing.
This week's challenge for reporters, assuming the convention even goes ahead, will be warding off convention fatigue.
"This is like running a marathon and being told you have another 20 miles to go, but at least this 20 miles is indoors," said New York 1 News political director Robert Hardt, who, like many others here already, flew into town straight from Denver. He was referring to the last-night move in Denver from the intimate Pepsi Center to the outdoor Invesco Field.
"The stadium was a great spectacle but it made our lives miserable," he said.
Later, standing in the fifth floor lobby of the Marriot Hotel, where New York reporters and delegates are staying, Daily Newsreporter Liz Benjamin explained, "You got an exhausted media crew. Nobody wants to go out drinking all night. For the first five days, it's a party, for the second, it's a grind. I'm more interested in getting six hours of sleep instead of four," she said. Then, she went to bed. It was 10 p.m.
Outside the hotel, one New York photographer who already has been in town for a several days recalled how he tried finding something, anything, exciting to shoot. He said he asked a taxi driver that night to take him and his friends "to the seediest strip joint in town." Instead, they were dropped off a hotel bar near the Marriot.
"I had a gamy burger and nasty blueberry martini," this photographer said. He went home at midnight.
And if out-of-town media seemed unexcited about being in the Twin Cities, the feeling was somewhat mutual.
Sanden Totten, a producer for the show In the Loop, which airs on 91.1, the local National Public Radio affiliate, had strolled into the media party because, he explained, he had nothing else to do that night. And his audience would be spared the details.
"We were told by Friday [when the show airs] that it would be enough and to get other news," he said, standing near the white truck dispensing the mini donuts. When asked for possible story ideas his show may cover, Totten said, "There's this whole field of news. I think it's called, um, international news, that has nothing to do with this."