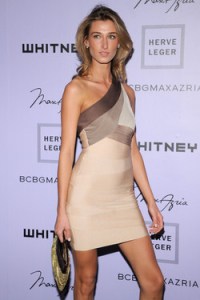 In this month's 8-pound Vogue (we estimated!), William Norwich writes about a new trend: the disappearance of the socialite.
Apparently our city's young women who've made their names attending galas and charity balls are suddenly opting to stay home these days. Why? Well, it seems that the weakening dollar has made the socialites want to slow down and show less of themselves in public.
Over-exposure is suddenly so crass.
"Even if I went out one night a week, with all of the internet outlets for photographers it looks as though you've been out 50 times!" said 23-year-old Lauren Remington Platt, the great-granddaughter of Union brigadier general and Remington Arms founder Marcellus Hartley. "That's 49 times too many."
Ms. Platt has even instituted a policy where she's stopped answering her cell phone while she's on the move in order to slow down. Instead she has begun listening to books on tape. (Currently, Barbara Walters' Audition is in her purse.)
Meanwhile, sisters Maggie and Jessica Betts, Barbara Bush, and Jessica Joffe are staying home to host intimate dinner parties, opting for a more calm setting to their socializing instead of the nightly designer or liquor company hosted soiree.
"The Internet bloggers created all the socialite fuss," Ms. Betts tells the magazine. "The whole phenomenon was a diversion from how unsettled people felt after September 11, but finally we're coming off out of it. If the economy continues to slip, don't you think the adoration of Daisy Buchanan types will fall with it? They will be resented, replaced by something grittier and more real."
As defining as that statement may sound, this seems to be a fairly new order of things among our socialite class. Indeed, this summer, we haven't seen much of Ms. Platt. But in May, she was out almost every other night, according to Patrick McMullan's website.
There she is hosting an after party for the Met's Costume Institute gala along with Olivier Theyskens on May 5, at a party for Allure magazine on May 7, at the Pronovias store opening on May 8, at a Chapman Brothers dinner on May 12, and at a party for Melanie Charlton Fascitelli on May 14. But then only twice in June, and once in August.
This supposed new trend has got us worried. Is New York society reverting back to the days when socialites are rendered in grand portraits, but are not to be seen or heard among us? Is the era of "the socialite" dead?