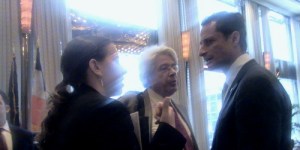 The New York Times has been hard on Anthony Weiner recently, and he thinks that's a reflection of how the paper has changed.
This morning, The Times ran a story about the departure of yet another staff member from the congressman's office, and that was a follow-up to a July 23 front-page story about his high staff turnover.
(Also, last week, one of his likely mayoral rivals, Christine Quinn, got a more favorable profile.)
I saw Weiner this morning near Brooklyn Borough Hall, where he was handing out campaign literature with State Senate candidate Dan Squadron, and asked him about this theme.
The Times is making its "own theme," Weiner said.
"People can cover this campaign any way they want," he went on. "But on the same day they did a story on my staff, they didn't do a story about my speech at Crain's where I rolled out–I thought–a thoughtful plan on how to preserve middle-class jobs in New York City."
He doesn't think the paper is covering the issues he's speaking about.
"Look, The Times has become more and more tabloid-y," he told me. "They have to make the decisions on how they chose to cover these races."
Asked if they are on to something about his management skills, Weiner said no.
"Even the people that The New York Times finds–who seem to be disgruntled–even they say they want me to be mayor."
UPDATE: A reader points out that the Times did, in fact, cover Weiner's appearance at the Crain's breakfast.