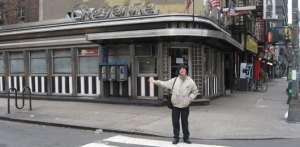 Michael O'Connell, scion of Red Hook real estate mogul Greg O'Connell, is taking charge of a project to move the recently closed Cheyenne diner from its Chelsea location to a seaside spot in Brooklyn.
Mr. O'Connell, 37, has worked on developments with his father since he was 7. "It's hard to do anything on my own, my dad and I do pretty much everything hand and hand," he said. "But, yeah, this was definitely more my idea, and I'm taking the lead on this."
The Cheyenne was forced to close this April to make way for a nine-story apartment building being erected by the diner's landlord, George Papas, at 33rd Street and Ninth Avenue. When Mr. O'Connell read about the closing in the media, he contacted the diner's owners, who put him in touch with Michael Perlman, a preservationist who previously saved the Moondance diner in Soho.
According to Mr. Perlman, who brokered the final deal between Mr.O'Connell and Mr. Papas, over 20 different parties inquired about purchasing the Cheyenne, but Mr. O'Connell was the earliest. He bought the Cheyenne for only $5,000, but he estimates that the cost of just moving the diner to its new site will be closer to $80,000. "Sure, I could have built a replica for less, but you can't match authenticity."
Moving the Cheyenne, which is over 100 feet long and 18 feet wide, and split into two pieces at the center, is a large and daunting task. So big, in fact, that the producers of the History Channel program Mega Movers have decided to feature it in an upcoming episode.
When the Cheyenne gets to Red Hook, it will make its new home on Reed Street across from the Fairway supermarket, where Mr. O'Connell has lived since 2006. He plans to elevate the diner eight feet to insure seaside views. Additional plans include a beer garden out front and an outdoor movie screen in the back.
The cuisine will still be diner-style, "but not a two dollar egg sandwich." Mr. O'Connell is looking for a higher-class eatery and he is calling on local help. Recently, he's talked with Harry Hawk, of the Water Taxi Beach, whose burger beat out competitors from around the city to win Best of New York in 2008 in Dish du Jour magazine.
Mr. O'Connell wants to keep the diner's Art Deco aesthetic intact and will be working with Mr. Perlman, who has a collection of vintage photos and original blueprints, to re-create the feeling of the diner circa 1940, when it first opened in Manhattan
Just keeping the décor won't replace the Cheyenne for longtime Manhattan patrons, but Mr. O'Connell hopes to provide some continuity. The New York Times eulogized the Cheyenne back in July with a full-page article in the City Section by Stacy Torres.
"That story ended with the author having the last meal at the Cheyenne before they closed," Mr. O'Connell said. "I'd like to contact her, and ask her to be my first customer."