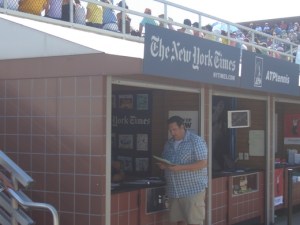 Between Courts 11 and 12, and right next to the food court, The New York Times is selling subscriptions, complete with a $25 Open gift certificate — enough, nearly, to cover a hot dog, a soda and waffle fries.
The "internet is just a fad," one salesman told me, sportingly. Another salesman told me, with admirable honesty, "We did much better last year."
For the record, the "Poster Redemption" station, a few spaces away from the Times, had about 20 more people waiting in line.