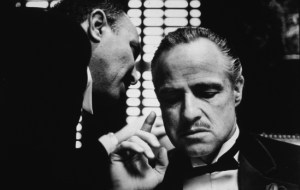 Don't hold your breath on this one. Studios and TV stations are holding on tight to their catalogs, despite the fact that digital downloads of movies do well on paid services like iTunes (and can probably be found in pieces or in full on illegal download sites). Citizen Kane, The Godfather, Annie Hall, Star Wars, and many of the top 25 most successful movies at the U.S. box office aren't available online and they probably won't be any time soon.
Studio executives told Variety that many new movies are still being broadcast on pay TV, cable, and other networks. What about older titles? They claim it's a digital rights issue but they also want to sell as many DVDs as possible.
"We work as a team within the studio to make sure we're making the pie as big as possible," says Malik Ducard, VP of digital distribution for North America at Paramount.
This means many titles that have not yet been released on Blu-ray (like Paramount's "Godfather" trilogy, most classic Disney animated films, or MGM's older James Bond titles) aren't likely to show up in digital form any time soon.
Meanwhile, films like Casablanca, Blade Runner and The Princess Bride are hits on iTunes. It has been almost a decade (1999) since we've been able to download movies on the internet legally. And now with video sites like Hulu offering free feature titles from Sleepless in Seattle to Ordinary People, it's time for the studios to give in to the internet.