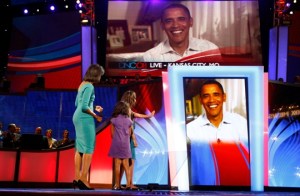 While you can read plenty of Democratic National Convention live-blogging, commentary and video on the Observer Does Denver blog, you might want to check out these sites in another tab for live streaming video.
There is, of course, lots of live coverage from major network sites, including MSNBC, ABC News (via Yahoo News), CNN, and Fox News. CBS News' Katie Couric has been recruited to do special Web-only segments live from the convention. C-Span has a new video hub that incorporates YouTube videos and Qik livestreams. The Huffington Post is using Kyte's video service. You can get the live stream in high definition from the Democratic Party itself over at DemConvention.com.
The Washington Post and Newsweek teamed up for live-streaming convention coverage online from 4 p.m. to 6 p.m. (for your end-of-workday internet fix) and again from 7 p.m. to 11 p.m. each night this week.