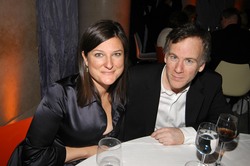 Waverly Inn turns out to have been only the first salvo in Vanity Fair staffers' heretofore successful effort to colonize the West Village. In this month's issue, Vanity Fair's Aimee Bell's bio reads: "Occupation: Deputy editor, Vanity Fair; co-founder, Greenwich Village High School… Causes: Greenwich Village High School (gvhsnyc.org), the Food Bank for New York City (foodbanknyc.org)." The Daily Transom had never heard of Greenwich Village High School, so we checked out the school's Web site. It's a green background with the words "Work Hard, Be Kind, Take Risks" in big letters, and an e-mail address and phone number to call. When we called the phone number, a woman's voice said: "Thank you for calling the Committee for Greenwich Village High School. Please leave a message after the beep."
Ms. Bell did not return several messages left with her assistant at the magazine.
Oh! There's a Wikipedia page! According to Wikipedia:
Greenwich Village High School will be the first private, nondenominational, "stand-alone" high school in New York City. GVHS presents an opportunity to create the culture of a school, to be innovative and bold in developing a school that works in the 21st century, to enjoy the advantages of a location, Greenwich Village, that projects a certain ethos–welcoming, open-minded, known for the arts–and to fulfill the GVHS motto, "Work Hard. Be Kind. Take Risks."
Utilizing the resources of the larger NYC community, an interdisciplinary and relevant curriculum will combine ethical and intellectual training, and give equal weight to the sciences, the humanities, and the arts. GVHS graduates will read critically, write and speak well, and think independently… and they will be socially, politically, and culturally aware. They will have a sense of perspective and gratitude, they will understand their place in the local and global communities, and they will learn how to be productive and compassionate members of society. Pedagogy will combine the most effective teaching and learning methods from both traditional and innovative practices.
GVHS will be an intentionally diverse community, reflecting the many racial, ethnic, and social groups which make up New York City, and will foster an appreciation for all that comes with diversity. The school will open in September 2009 with a ninth grade class of 45-60 students, then build to 90 students per grade level over the following three years for a total of 360 students… A founding board of trustees comprised of Greenwich Village residents, parents, philanthropists, and other supporters governs the school and provides guidance and support.
For now, we'll just call it the Crossroads of the East Coast.