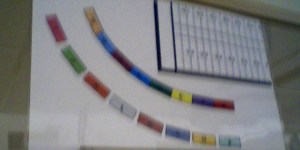 Even this populist Democratic National Convention has a seating chart, and therefore a social hierarchy.
According to the DNC's rubric, The Washington Post is deserving of the better seat than The Times, and Jezebel and Glamour deserve a closer seat than The New Yorker, Vanity Fair, Mother Jones and Portfolio.
First, a little background. There's really no bad seat in the Denver Broncos press box in Invesco Field, but there certainly are better ones. There are two rows of tables that curve in the press box from the end zone to about the 20-yard line. You want to be in that first row, which features delightfully unimpeded views of the whole stadium other than the glass that surrounds the front of the press box from floor to ceiling; in the second row, you'll see Barack Obama pretty nicely, but you'll also be staring at the back of someone's head.
Obama's Greek podium is set up at roughly the 50-yard line, so, like at a football game, the closer to the 50-yard line you are, the better your seat is.
Reporters from The Wall Street Journal and The Washington Post are the big winners–their reporters are sitting together in Section C in the front row (C is closer to the 50-yard line than H). Times reporters and editors have been filed into Section D, a little farther away. Time and Politico are together in Section F, a little more directly aligned with the Obama stage.
The Nation is in Section G, a little better than The New Republic and The New Yorker, which are both in Section H, and far better than Vanity Fair, which is stuck in the back row in Section J.
For New York bragging rights, both daily tabloids got relegated to the back row, but the nod goes to the Daily News, which gets Section O versus the Post's Section M.
(As for us, I'm sitting here with Jason Horowitz and Andrew Rice, in a makeshift workspace even farther back than the second row since we weren't even assigned a seat!)
One very pleased writer, Megan Carpentier, who is writing on assignment for Glamour's blog, Glamocracy, and for the Web site Jezebel, couldn't be happier to be a few seats closer to the front of the podium than Mother Jones' David Corn and Portfolio's Matt Cooper, both writers sitting to her left. She said she got the seats through Glamour, but added she's contributing about four posts a day both to the magazine and to Jezebel.
"This is amazing!" she said about her seat. "It's so completely random."