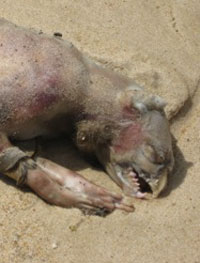 Since The Los Angeles Times decided to lay off 135 people—100+ people for the second time this year—its PR brass has been trying to distract the media with other, happier news. Yesterday, with a nice link from Romenesko, the Times announced that it had its biggest Web-traffic month ever with 127 million page views in July.
Every piece of publicity that comes out of the paper is issued from Russ Stanton, the paper's editor of six months, who had previously been in charge of latimes.com. Naturally, a lot of it will be latimes.com-related (if it's not about traffic, the news is always about new blogs). The 127 million page views is an impressive figure, but if you're going to very publicly pat yourself on the back in Internet Land, get ready to also get poked in the eye.
From Silicon Alley Insider:
Comes now Nick Denton, the evil genius blogmaster at Gawker Media, who looks at the LAT's traffic and says: "That's cute." Denton's own collection of 12 sites, you see, had a record July, too. But they generated 2x more traffic than the country's fourth-largest newspaper: 254 million page views, by Denton's count. One Gawker item on the Montauk Monster is responsible for 1.3 million page views alone…
Talk about monster numbers.