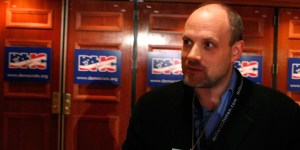 DENVER—Brit Hume, Bill Kristol, Mort Kondracke and Fred Barnes were kicking around some ideas to discuss on the air as they climbed the stairs to Fox's Election HQ newsroom, when they bumped into Howard Wolfson.
"You caused a huge uproar today," Kondracke said approvingly, referring to a piece Wolfson had written urging Obama to reach out to Bill Clinton. "You were on the top of all the blogs."
Wolfson, the longtime Democratic strategist and former communications director for Hillary Clinton's presidential campaign, smiled at their good-natured ribbing. They laughed when he laughed. Noisy, full of camaraderie and good cheer, the five of them almost looked like a team.
There's a reason for this. The Democratic convention is Barack Obama's house in Denver, and Wolfson and his more conservative pundit friends, despite possessing two worldviews that rarely meet, are the outs.
While Wolfson still keeps in contact with former Clinton advisers now folded into the Obama campaign, and has participated in some Obama conference calls for frequent Democratic commentators, he has, with the exception of a dinner and breakfast with his personal friend David Axelrod, not been reached out to by the top brass of the Obama campaign in the months since Clinton's campaign ended. Unburdened by talking points, Wolfson has been blissfully free to speak his mind.
At times, this has put him somewhat at odds with the Obama campaign's message of wall-to-wall hope and party unity. Certainly, that was the case when he announced his opinion, a couple of weeks ago, that Hillary Clinton would have won the Democratic nomination if John Edwards' extramarital affair had broken early on in primary season and knocked him out of the race. Neither could it have made the Obama campaign particularly happy when, on the eve of the convention, Wolfson wrote his top-of-all-the-blogs opinion post advising Obama to be more respectful to Bill Clinton.
It's not all straight politics. On his new blog GothamAcme, Wolfson, a music nerd, writes about bands — "Best song is the very romantic "Fall," sung in an operatic twang" – as well as campaign matters, as when, on the morning of August 26, he called Michelle Obama's convention speech a "homerun."
But Wolfson remains largely dedicated to the business of defending Hillary Clinton. Some of this he does at her side: He still advises her and is playing an active role in the preparation of her major day-two convention speech. And then there's his TV gig.
A green golf cart carried Wolfson from the Fox headquarters to the Pepsi Center. Ashley Hunt, a peppy 22-year-old in white shorts who described herself as a "booking girl," led Wolfson to the convention floor, where, dressed in a subtly checkered gray suit, he said hello to former Clinton associates and Democratic Party operatives. Slowly, he made his way to the Fox riser between the delegations of Guam and New Mexico.
A few moments after Wolfson arrived there, Democratic National Committee chair Howard Dean came to the podium, banged his gavel three times and called the 2008 Democratic convention to order.
"It's bittersweet," Wolfson said about not being involved with the coronation of a nominee at the convention. "I didn't need to feel a part of it. If I wasn't doing Fox, I wouldn't have been here this weekend." He would have watched it on television, he said.
On the riser, an empty seat awaited Wolfson next to Fox reporter Megyn Kelly, who wore a white blouse, blond wavy hair and television makeup. He said he wasn't nervous, because he had done loads of television, though he had gained a deeper admiration for those who excelled at his new profession.
"This is going to sound strange coming from me, because I disagree with almost everything that he says. But if you watch Bill O'Reilly with the sound off, he's like a silent movie star," said Wolfson, who was interrupted by his phone ringing. One of the many reporters he fields questions from called asking about some of Clinton's delegates who had yet to get with the party's program.
He said things like "I don't think you can just snap your fingers" and "the McCain people have done a good job of stoking that." As he spoke, two delegates from Guam watched him and whispered to each other. When he got off, they asked for a picture with him.
"Are you still an adviser?" asked Dennis Rodriguez Jr., a 30-year-old Clinton delegate. When Wolfson responded that he was, the delegate said, "Just to let you know, I'm still going to vote for her."
"Well, we appreciate your support, but we're with Obama in the end," said Wolfson.
Mark Smith, a Clinton delegate from Texas, approached Wolfson shortly after and told him that he handled himself well on television. They talked briefly about Clinton's victory in Texas ("Our backs were to the wall but she did it," said Wolfson), and when Smith said he hoped she would run again, Wolfson said maybe in 2016.
Mark Halperin dropped by to talk politics, and Wolfson obliged. But then one of the booking girls gave him a signal and Wolfson tapped the reporter on the shoulder. "I'm on," he said.
He stepped on a plastic milk crate and then onto the stage and into the seat. Kelly prepped him on the subject of discussion, unity and the Clintons, which is something Wolfson is asked to talk about a lot these days.
"I'm not going to be able to talk about that," he said.
They ultimately agreed that he would provide analysis, essentially, of what was already in the public arena. The producer kneeling under the camera counted down from 10. At three, Wolfson checked his BlackBerry. When Kelly said his name on air, he smiled immediately. Behind him stood a banner identifying the seating area of the Florida delegation, where supporters waved signs like "Barack Rules" and "New Energy for America." Dean reappeared to introduce more speakers.
The "hit," as Wolfson calls his television appearances, went well. Kelly said she appreciated his straightforwardness. ("Like all out pundits, he can give you the talking points," said Kelly, "but if you push him he will give you a real answer.")
Wolfson stepped back down onto the milk crate and then the convention floor. Within moments, more delegates rushed over. Most of them were Hillary supporters who wanted to express their appreciation for his service. One Obama supporter asked for a picture and Wolfson asked to wear her Obama-pin-pierced cowboy hat. Another Clinton delegate expressed outrage at what he considered the Obama campaign's lack of outreach to the Clinton supporters and Clinton herself.
"You can't just ask us to hop on the bandwagon," said Marvin Wells, a 43-year-old Clinton delegate from Washington, who said he was determined to vote for Clinton.
Wolfson again empathized, but told Wells that he ought to vote for Obama in the end.
Wolfson bumped into several more acquaintances on the way off the convention floor and back to the "Penalty Box" lounge in the basement of the Fox headquarters. Dennis Kucinich and his wife talked to some people around a small table and then considered the catered trays of buttered peas and lasagna. Wolfson hunched over a large diet coke in a booth in the room's corner, and explained that he felt good about signing a long-term contract with Fox because they had treated Clinton fairly in the primary. He had no gripe with his current employer.
"People have treated me well," he said.