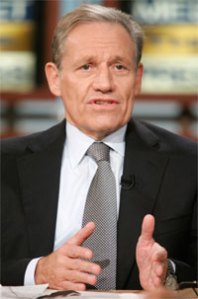 Simon & Schuster announced this morning that Bob Woodward's new book—his fourth on the Bush Administration—will be called The War Within: A Secret White House History 2006-2008, and that The Washington Post will excerpt it on Sunday, Sept. 7, the day before it goes on sale. They're printing almost a million copies of this thing, according to the announcement, in which Mr. Woodward's editor, Alice Mayhew, is quoted as saying, rather boldly, that the book offers the most "authoritative and intimate account of presidential decision making since the Nixon tapes and the Pentagon Papers."
Naturally, seeing as Mr. Woodward's books are always full of electrifying little news breaks, The War Within is embargoed until the day of its release. Which means, of course, that the race is on for who will find it early and tell everyone what it says! Will it be The New York Times, which got the last one and emptied out its contents two days before The Post was scheduled to run its excerpt? Or will it be reigning champ Mike Allen of the Politico, who nabbed Scott McLellan's What Happened a week before it was supposed to hit stores, and more recently pulled out an 11th hour victory over HarperCollins when he discovered a copy of Ron Suskind's The Way of the World at a DC bookstore the day before it came out and published a summary of its major revelations? Or could it be that Simon & Schuster will actually succeed this time around in keeping this thing locked up until they bring it out on the 8th?
More to the point, is The War Within going to suffer—in terms of its endurance and, uh, literary legacy—from the fact that the media will inevitably focus on the handful of riveting scoops it contains?