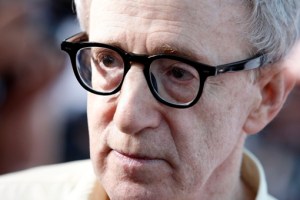 The Los Angeles Times' Rachel Abramowitz has a somewhat dismal interview with Woody Allen on his new, Scarlett Johansson-helmed movie Vicky Cristina Barcelona. He talked about experiencing life from his bed, how fame and fortune is devastating and thankless, and how he laments that he can't play some cool guy in a movie like Robert DeNiro can so he's stuck playing the intellectual or the lowlife.
She wrote:
From the way Allen is talking, one would assume it's the eve of the release of one of his misfires, the platoon of piffles including "Celebrity" and "Anything Else" that followed the public scandal of his 1992 breakup with Mia Farrow, the ugly accusations (denied and never proven) of child abuse and his later marriage (now 10 years running) to Farrow's adopted daughter, then-22-year-old Soon-Yi Previn. In fact, he's just made one of his most charming and funny movies in over a decade.
More from Allen on his workspace and his work:
"My spot on the bed is my spot in the world," he explains. It's where he watches baseball games, and reads, and where he writes, usually in the morning, because if he starts at night, he sometimes gets so excited he can't go to sleep.
…
The only impulse Allen cops to is the one to work, maniacally, as if to stave off death. "It's a way of coping with the world. You know, in the same way that somebody copes with it by being a stamp collector or a sports addict or a titan of industry or an alcoholic or something. My way of coping with the horrors of existence is to put my nose to the grindstone and work and not look up."
Fame:
"When you're a kid you think to yourself, 'Fame and fortune and it's going to be so exciting and . . .' — but then you quickly find after three or four films, you find, 'Wait a minute, the upside is nothing and the downside is nothing.' The adulation of the multitudes or of the critics is an impersonal experience, and the negative feelings [from] people is an impersonal experience.
Acting:
"I'm not like
Dustin Hoffman
or
Robert De Niro
. These guys go out and do miracles on the screen. I'm a perfectly believable actor in my small range. So I can play a college professor, I can play a shrink, I could play an intellectual, even though I'm not an intellectual, or I can play a lowlife. I can play like Broadway Danny Rose or I could play a cheesy little bookmaker or a grifter of some sort because I can handle that. Me, the character for real, is closer to the sleaze ball, but I can act both of them."