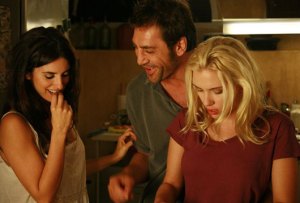 VICKY CRISTINA BARCELONA
Running time 96 minutes
Written and directed by Woody Allen
Starring Penélope Cruz, Scarlett Johansson, Rebecca Hall, Javier Bardem
Woody Allen's Vicky Cristina Barcelona, from his own screenplay, is close to his 40th feature film in an almost 40-year career that began in earnest in 1969 with Take the Money and Run, and has proceeded through the years with more ups and downs, more ins and outs, more breakthroughs and breakups, and more hits and flops than that of any other director I can think of, from any period in film history. Now in his 70s, he has managed to astound me by coming up with one of the most felicitously written, edited, acted and directed romantic comedies of his entire career. I may still give an edge to 1979's Manhattan and 1977's Annie Hall, but not by too much.
Dare I say it? Woody has definitely mellowed and deepened in his feelings for other people. One can still hear Woody's ironic cadences in his narration, delivered here by Christopher Evan Welch, but the ironies are gentler and more generous than in years past. The film's delights are encapsulated in its cumbersome title. Vicky (Rebecca Hall) and Cristina (Scarlett Johansson) open the film as two young women silently dragging their luggage behind them as they disembark in Barcelona. We see them in the bright sunlight, but they say nothing before the narrator tells us all we have to know about their lives, their American nationality, their contrasting backgrounds and their immediate destination, to the home of Vicky's distant relatives, Judy (Patricia Clarkson) and Mark (Kevin Dunn), who have offered Vicky and Cristina an opportunity to spend a summer in Barcelona.
Mr. Allen's economical method of exposition allows him to skip all the small talk and plunge directly into the comically erotic adventures Vicky and Cristina experience with a boldly womanizing Spanish painter, Juan Antonio (Javier Bardem), and, much later, with his firebrand ex-wife, María Elena (Penélope Cruz), who has previously stabbed Juan Antonio in a fit of jealousy.
Juan Antonio manages to seduce Vicky and Cristina separately, but he never achieves his initial goal of making it a threesome, at least not with Vicky and Cristina. One complication is Vicky's impending marriage to a presentable young American businessman, Doug (Chris Messina), who during his quick trip to Barcelona persuades Vicky to marry him there, before their fancy scheduled wedding.
As it turns out, it is Cristina who enters into a ménage-a-trois with Juan Antonio, but with María Elena, after Juan Antonio brings her home, penniless, following a failed suicide attempt.
There are other askew elective affinities as well, including one that is uncovered when Vicky catches her hostess, Judy, kissing her husband's business partner, and thereby realizes that her own "sensible" marriage may be doomed to inevitable disillusion. There are no easy answers for either Vicky or Cristina even in voluptuous Barcelona; the city serves extensively as the film's fourth muse, making for delectable summer entertainment in time-honored travelogue fashion. But there is much more as well in the seriocomic intensity with which Woody contemplates his three contrasting goddesses of desire, and their assorted womanly impasses and vulnerabilities. I hope this film will confound his army of naysayers by becoming a huge commercial success. It is already an artistic triumph of heroic dimensions, considering that it has come much closer to the end of a career than its beginning. The magnificent acting ensemble alone is worth the price of admission.
asarris@observer.com