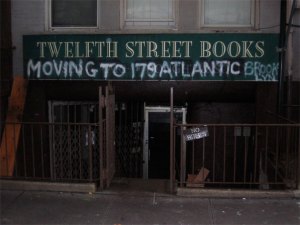 If you picked up the New York Press this week and noticed that it's a little heavier than usual, that's because you're holding the paper's annual "Best of Manhattan" issue.
Among the many, many categories listed—including, Media Mob is proud to announce, Best Mash-Up of NY Observer Trends—is an entry for Best Used Bookstore.
That honor goes to 12th Street Books:
Rumors continue to swirl that this little basement bookstore is threatening to close or relocate, but it all seems to be baseless twittering. And if it ever does disappear, we will almost give up trying to find quality used books in the city. While others cater to rare-book tastes or overpriced selections—complete with misanthropic proprietors—this short-aisled shop continues to stock hard-to-find titles without the perplexing penchant of charging almost-brand-new prices.
Organization is just right: alphabetical by sections but still disorganized enough to make you feel like you're discovering some lost jewels. You won't get rich on trying to re-sell your books (don't even try, just head over to the nearby Strand for that). The selection of lit, architecture, art and criticism is so fine that you won't mind the little inconveniences.
Unforunately, the Press' piece is more of a eulogy than an endorsement: 12th Street Books is closed. A sign on the front of the store says that it will be reopening "Summer/Early Fall" in Brooklyn.
We're not sure how long it's been closed—a call to the store's number went to voicemail—but a visit to the subterranean shop two weeks ago found it nearly stripped and books being sold by the bagful to customers paying their respects.
Last week, the store was locked up, its facade scrawled with a new address on Atlantic Avenue.