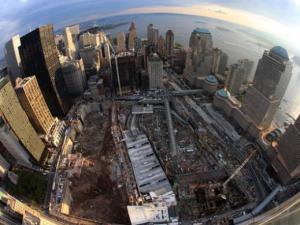 As the Port Authority gears up for its big bare-all report Thursday on World Trade Center dates and costs, the price tag of the site stands to rise significantly.
According to numerous people familiar with discussions, the Port Authority is planning to announce the total amount in overruns is about $1.7 billion for the whole site. The amount presents the public sector with a large gap to fill in a time of strained budgets; however, the dollar figure is not quite as cataclysmic as early reports suggested, which put the gap at as much as $3 billion.
The overruns apply to the public sector portion of the site, which includes the Freedom Tower, the Santiago Calatrava-designed PATH hub, the common infrastructure, the vehicle screening center, the memorial, and the museum (but not the three Larry Silverstein-built towers). The amount budgeted for those components is $8.4 billion, which comes from a variety of sources.
Of the $1.7 billion in overruns, about $500 million is due to excess costs at the PATH hub, which has a design considered to be extraordinarily complex. The station currently has $2.5 billion available in funds, including contingencies, most of which comes from the Federal Transit Administration.
The Freedom Tower, which is gradually rising above street level, is likely to be more than $100 million over its $2.9 billion budget. Other components of the site, including common infrastructure and security, also require hundreds of millions more in contributions.