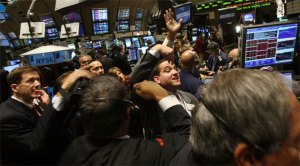 This morning's Pub Crawl closed out with a short list of books that were signed up well before last week's banking crisis took over the country's collective imagination. Some of these were conceived after the fall of Bear Stearns, and are now being expanded to cover more recent developments; others, like Charles Ellis' history of Goldman Sachs, which was signed up about two years and comes out early next month, are staying the course and hoping to tap into the feverish interest in banking/finance that the recent gloom has inspired in so many.
The point is we left some books out. Namely:
Harry S. Dent Jr.'s The Great Depression of 2010-2012: How to Prosper in the Crash that Follows the Greatest Boom in History, which is scheduled to come out from Free Press on December 30. Agented by Susan Golomb, The Great Depression predicts that the economic slowdown will continue for at least a decade. One thing Free Press has changed is the title of the book, which was originally The Great Crash of 2009-2010: Surviving and Thriving in the Coming Depression. All things considered, a subtle, but salient, adjustment.
Portfolio contributing editor Duff McDonald's biography of J.P. Morgan CEO Jamie Dimon, which he said in an interview yesterday will retain its original focus and scope and in general will be minimally affected by what's happened since he started working on it.
David Smick's The World is Curved: Hidden Dangers to the Global Economy, a Penguin/Portfolio book that is currently number 29 on the New York Times extended nonfiction list. Will Weisser, associate publisher at Portfolio, said Monday, "I think some of the ones that were hidden when he was writing it are now front page news. So in some ways it's hard to chase the news with a book, if not impossible. But you can only hope that if you have an expert on a subject, expertise is still in demand, even as the news changes and things that are only hypothetical in the book are real by the time the book is out. Obviously unless someone predicts something that turns out to be totally not true."
New York Times reporter Peter Goodman's book for the Times imprint of Holt. In an interview yesterday Mr. Goodman said his project is "essentially a look at how we got into this big economic mess, and all of the areas it's affecting, and how we might get out." Mr. Goodman, who came to The Times less than a year ago, said all of his reporting is done for the book because so much of it draws on work he's been doing as a daily journalist for years, and that it's supposed to come out in early 2010. "Frankly I think anybody who's really shocked by these events hasn't been paying attention," Mr. Goodman said. "I'm not saying, you know, that I'm such a genius that I knew that half the financial system would melt down but really if you're focused on what this means for ordinary people, it's not like much has changed."
Robert Schiller's The Subprime Solution: How Today's Global Financial Crisis Happened, and What To Do About It, a book published by Princeton University Press that is on the extended nonfiction at number 30 even though it's aimed at readers with a relatively sophisticated understanding of economics as opposed to a general audience.
William Cowan's The Meltdown, signed up right after the Bear Stearns collapse by Bill Thomas at Doubleday, for publication in spring 2009. David Drake from Doubleday publicity said Mr. Cowan is almost done with the book, and that it's "probably not going to require a lot of rejiggering." "He actually approached the Bear Stearns debacle as a canary in the coal mine," Mr. Drake said, noting that while Mr. Cowan does intend to "integrate some of the more recent developments … the overall narrative about what happened with Bear Stearns remains very much the focus." Mr. Drake also said the name of the book has been changed to House of Cards.

There are other books that belong on this list; don't hesitate to get in touch if you've heard of or are writing/publishing one.