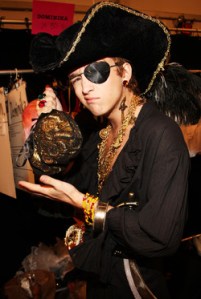 Inside the tent where Betsey Johnson would show her Spring 2009 collection, cupcakes and colorful swirly lollipops were laid out on petite party tables covered in starred table cloths that substituted for the front row, which was looking more like a children's birthday party than a fashion show.  
The arrangement was rather tight despite being the official VIP seating.  (The Daily Transom spotted doll-like Village Voice fashion columnist Lynn Yaeger and Paper Magazine's Mickey Boardman crammed together at what looked like a children's table after they were seated.) 
Betsey Johnson co-founder Chantal Bacon, whom the Daily Transom found greeting guests in the cheerful front row, said the theme was Peter Pan. 
"This is pure Betsey. It's Betsey-Betsey land and it's a little bit like Neverland," she explained. "Betsey likes to put on a play, so each show is its own little play. She can't just show the clothes. It's kind of a nursery theme to start it off because Peter Pan starts in the nursery and then you'll also see the pirates." 
The… pirates?
Once the show began, Ms. Johnson pranced out with her two grandchildren in tow, parading them around before handing them off to her daughter, Lulu, seated in the front row.
A lengthy show of Ms. Johnson's playful designs followed as the models walked out in various of forms of cupcake party dresses, childlike rompers, and corset-bodiced long floral dresses with sculpted skirts. (While we noticed children's building blocks stacked on the table, the nursery theme became more clear as the models began to walk out in white undergarments that looked like oversized baby clothes.)
When it was time for the pirate sequence, it turned out that 20-year-old Liam McMullan, son of party photographer Patrick McMullan, was playing the rowdy pirate in Ms. Johnson's production. Walking out in an elaborate pirate's outfit, he swayed and danced down the runway, throwing gold coins at the audience and pinching the models' exposed bottoms as they walked by. At the end of the show, Ms. Johnson came out and did a few signature cartwheels and a little dance, hand-in-hand with Mr. McMullan. (Proud papa Patrick was in the audience watching.)
Tomorrow Ms. Johnson will leave town with her boyfriend, said Ms. Bacon.  
"Right afterwards she always just goes away," said Ms. Bacon. "She goes someplace hot and sunny. But this years she's actually still trying to figure out where she can go where it's hot and there are no hurricanes."