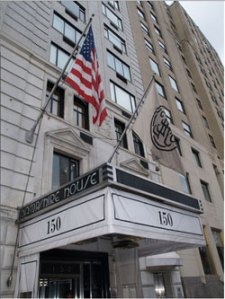 Last week, eight days after the Federal Reserve agreed to an $85 billion bailout for the American International Group, and one day after the F.B.I. was first reported to be investigating its collapse, recently retired AIG executive vice president Robert M. Sandler bought a $3.45 million apartment at the Hampshire House on Central Park South.
He and his wife, Annette, paid in cash.
According to a Corcoran listing, their new three-bedroom, 2,045-square-foot apartment has a "top-of-the-line windowed kitchen with custom cabinetry"; a master bedroom suite with two walk-in closets; a steam shower and Jacuzzi; new herringbone floors; and a $4,333 monthly maintenance fee. (It's the kind of home that might have been covered by the AIG Private Client Group: "The growth in wealth around the world has created exposures for high net worth individuals that extend beyond traditional insurance coverage," Mr. Sandler said in 2000, when the group was launched.)
Media items announcing Mr. Sandler's April retirement said he would remain at AIG throughout the year. But Mr. Sandler, whose roles at the company have included senior claims officer (a job that sounds like it could exist only in a Raymond Carver short story), could not be reached through the firm.
His new unit has housed executives from troubled companies before. Until last April, the spread belonged to Chris Sugrue, founder of a fallen hedge fund firm called PlusFunds. He's been tied to the collapse of the infamous Refco brokerage company; according to a complaint filed this April, he may be living in Angola, which has no extradition treaty with America.
Mr. Sugrue sold the place to a Scarsdale couple last year for $2,586,000, which means the Sandler couple's $3.45 million cash deal wasn't quite a bargain.
mabelson@observer.com