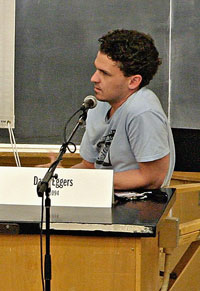 Looks like Esquire has finally forgiven Dave Eggers.
In 2001, writing in The New York Times 'Style' section, Anna Holmes offered a rundown of words and phrases banned by various publications. Among the offerings:
David Granger, the editor in chief of Esquire, forbids "Dubya," "at risk" and "Eggers," the last because he had a falling-out with the novelist David Eggers, who worked at Esquire before he was famous.
In its mammoth 75th Anniversary issue, the magazine lists Mr. Eggers as one of its "75 Most Influential People of the 21st Century." According to the text accompanying his photo, Mr. Eggers was selected "Because he's inspiring a generation of readers and writers." Mr. Eggers finds himself alongside the founders of Google, Rupert Murdoch, Scarlett Johansson, Oprah, and others.
It should be noted that the "no Eggers" maxim hasn't fully held up since 2001. In 2004, Chuck Klosterman named-checked the author in a column about pirates and another about "The Rise of the Real." Stephen Marche mentioned Mr. Eggers last month in an essay about American culture's obsession with youth. The magazine also saw fit to honor one of Mr. Eggers' contributions to the magazine as one of "Esquire's 70 Greatest Sentences" for its 70th anniversary in 2003.