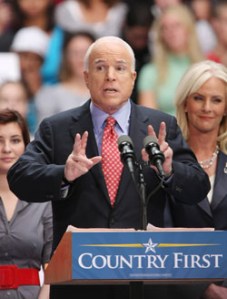 This is what can happen when you gamble in politics. Last Wednesday, John McCain "suspended" his campaign – an action that sounded a lot more substantial than it actually was – to return to Washington and insert himself into the Congressional debate over a financial rescue package.
The results, for Mr. McCain and (if most financial experts are to be believed) for the economy, have been ghastly, culminating in the House's stunning rejection of a compromise plan on Monday, which sent the Dow plummeting and Mr. McCain scrambling to save face.
It's not that Mr. McCain's impulse to do something "dramatic" was necessarily wrong. Wall Street's collapse ensured that the outcome of the presidential race would be determined by economic issues, a significant – perhaps insurmountable – disadvantage for a Republican candidate after eight years of Republican rule. Since there was no changing the subject, Mr. McCain had to convince the public to ignore his party label when considering his economic views.
But if his instinct was right, his execution was badly flawed, starting with his initial demand that last Friday night's debate be canceled. When Barack Obama refused to go along with this and calmly pointed out that presidents need to be able to deal with more than one headache at a time, public opinion turned against Mr. McCain, who was then forced to reverse himself and participate in the debate. This made it look like he had acted rashly and out of purely political motives.
Worse for Mr. McCain, he simply had no idea what to do after thrusting himself into the negotiations. Treasury Secretary Henry Paulson released his initial three-page bailout plan two weekends ago, but as of last Tuesday, Mr. McCain hadn't even read it. And until last Thursday afternoon, when he finally made his way back to Washington, Congressional leaders from both parties had been busily working toward a compromise plan that built on the Paulson framework – without any input from Mr. McCain.
In fact, just as Mr. McCain touched down in Washington, that bipartisan group announced an apparent agreement on compromise legislation, immediately raising the question of what, exactly, the point was of his visit. If he'd been hoping to come to town and broker a deal – or at least to take credit for brokering one – that notion was shot.
So Mr. McCain spent Thursday afternoon meeting with the House's G.O.P. leader, John Boehner, while his aides gauged the sentiments of conservative Republican House members, a group that had expressed early opposition to any taxpayer-funded bailout. Maybe it was coincidental (or maybe not), but hours later a revolt from those same conservatives prompted Mr. Boehner, at a White House meeting attended by a mostly silent Mr. McCain, to blow up the deal that had been reached earlier in the day.
Clearly, Mr. McCain was making this up as he went along. But with the House G.O.P. in revolt, at least he still had a chance to play a consequential role. Unfortunately, he still had no idea what he was trying to accomplish. As a result, when he was questioned at Friday night's debate about the status of the rescue plan, he spoke only in vague generalities – instead of offering a compelling explanation to voters of what he was trying to do for them (and to save them from) in the negotiations.
The pattern endured over the weekend. Mr. McCain quietly returned to Washington and worked the phones, but he was hardly a significant player as the same bipartisan negotiators hammered out a new compromise on Saturday and Sunday – one that passed muster with Mr. Boehner and other top Republicans in the House. To average voters absorbing reports of the compromise, Mr. McCain was essentially invisible.
He was so out of the loop that he had no idea that the compromise faced serious opposition in the House. Expecting that the plan would pass with ease, Mr. McCain sought to cut his losses on Sunday and early Monday by calling the plan flawed but necessary and claiming credit for bringing reluctant House Republicans on board.
"I put my campaign on hold for a couple days last week to fight for a rescue plan that put you and your economic security first," he declared on Monday.
Hours later, of course, the House voted the plan down, and Mr. McCain was left trying to pin the blame on Mr. Obama and the Democrats for injecting partisanship into the negotiations.
But the issue was long since lost for him. If he was intent on making a show of this, Mr. McCain would have been wiser to simply oppose the idea of a bailout and to try to exploit the considerable populist sentiment against it. No one would have had trouble understanding his position on the bailout, or why he was inserting himself into the discussions in Washington.
Mr. McCain could have helped himself in two different ways on the bailout: Either by brokering a deal or by setting himself up as the public face of outrage at the idea of a bailout. Instead, he sat back while others reached a deal and then offered lukewarm and muted support for it – only to watch it go down in defeat anyway.
The bailout plan may yet be rescued, but Mr. McCain's effort to score on the issue is lost.