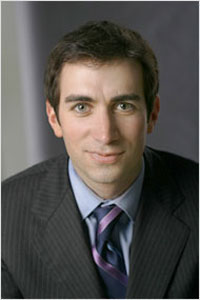 On Monday we heard that, like every other financial reporter in the city, The New York Times' Andrew Ross Sorkin was mulling the possibility of writing a book about the crisis on Wall Street. On Tuesday we heard his agent had sent a proposal out to some editors, and by the end of the workday yesterday, an auction was under way.
Now we know, thanks to two people with firsthand knowledge of the proceedings, that Mr. Sorkin is inches away from a book deal with Viking. The acquiring editor is Rick Kot.
Mr. Sorkin's book is just one of many spawned by the ongoing economic turmoil. The guy who sits next to him at The New York Times, Joe Nocera, is writing one of them, with Smartest Guys in the Room author Bethany McLean. That book was at auction as of yesterday. Whether it has sold at this point or not we don't yet know, but expect an update soon.
Viking, incidentally, is an imprint of Penguin Group USA. So is Ann Godoff's Penguin Press, which announced yesterday a Wall Street crisis book of their own from Roger Lowenstein that will be called Six Days That Shook the World.