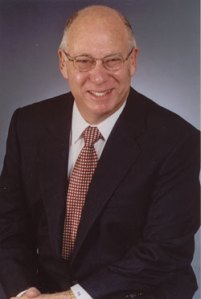 If there's any dynast in New York who can eye the ravaging fires of Wall Street with some degree of equanimity, it's Douglas Durst, he of the just-topped-off, just-filled-up Class A tower at One Bryant Park, anchor-tenanted by none other than the impressively solvent, indeed expanding, Bank of America. Quite the power couple, eh? 
If they're the winners in this ordeal, they are overshadowed by the carcasses littering a roadway paved by the credit crisis.
"Today's really a crash of the New York real estate market," said Tomasz Piskorski, assistant professor in the finance and economics division at Columbia Business School, on Monday.
To illustrate his point, Mr. Piskorski cited New York's real estate investment trusts, which, until the weekend's mayhem, had managed to stay above the fray. On the most murderous of Mondays, their stock values plummeted. Vornado Realty Trust's stocks fell $10.29 a share during the day, roughly 10 percent, to $88.70; SL Green, New York's largest commercial property holder, dropped nearly $9, or 12 percent, to about $70 a share.
The most immediate effect of the Wall Street crisis on Manhattan commercial real estate will be on the office vacancy rate, which is likely to rise past what brokers call equilibrium and into a tenant's market. Jim Delmonte, vice president and research director at Jones Lang LaSalle, began crunching the numbers for his bosses on Friday evening, when Lehman's demise appeared a foregone conclusion.
He determined that the collapse of Lehman alone could push the midtown Class A vacancy rate to 12.1 percent, if the investment firm gets rid of all 2.7 million square feet of its property holdings and office leases, including its headquarters at 745 Seventh Avenue. (According to JLL's numbers, the midtown Class A vacancy rate now stands at 8.4 percent.)
Those sober calculations don't even take into account the space occupied by Merrill Lynch, bought this weekend by Bank of America, which has 3.5 million square feet in Manhattan, including 2 million in 4 World Financial Center, 500,000 in 2 World Financial Center—both owned by Brookfield Properties, another public landlord that took a Monday stock hit—and about 650,000 in 222 Broadway, according to Peter Kozel, Newmark Knight Frank's executive managing director of research. Endangered insurance giant A.I.G. has 3.8 million square feet downtown and 250,000 square feet in midtown.
Add to that developer SJP's speculative, 1.1 million-square-foot tower rising at 11 Times Square, and high-rises planned for the Port Authority and the West Side, among others, and, well, you see where this is going, right? Who, after all, is going to lease that space? Will some of those planned towers even get built? Guess we can put the tombstone on talk of Merrill building on the site of the Hotel Pennsylvania. And, who, after all, is going to buy the Lehman building?
"It's nearly impossible to expect a single company to take the Lehman building," Mr. Piskorski said. "It's a very attractive building, but we would need some company to relocate to the New York City area. … And even if someone was interested, people are very cash-strained."
True that. As has been pointed out over and over again, financing is hard to come by. But—and here's some news that could be construed as not-awful—Richard Bassuk, president of the Singer & Bassuk Organization, said financing shouldn't be any harder to come by than it already is. "The CMBS market has basically [already] been shut down," Mr. Bassuk said.
So where does all of this leave Manhattan? Only time will tell. CB Richard Ellis perhaps put it best in the statement it released to media on Monday: "The Manhattan office market is now in uncharted territory with events continuing to unfold."
Rest assured, once these events do unfold and the market hits bottom—when that will be remains anyone's guest—things can only get better (sorry about the truism).
"It's hard to say if we have bottomed out," said Jon Caplan, executive vice president of the New York Capital Markets Group for Cushman & Wakefield. "When the market perceives that we have, there will be a large influx of capital, as billions have been raised for opportunistic investment."
drubinstein@observer.com