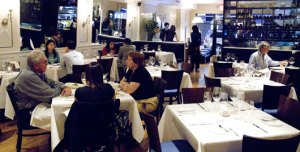 On my way into Allegretti the other night, I passed a young woman who was shouting into her cell phone. "Everyone I know in New York is, like, on suicide watch!" But the financial meltdown hadn't made much of a dent in the number of customers dining at the new French restaurant, just west of the Flatiron district. Many of them looked as though they had come here for the occasion (I counted six men in striped shirts), and appeared undeterred by the prices ($38 for halibut, $36 for veal steak). They seemed right at home.
And why not? The small dining room, with its teak blue bar, navy banquettes, low ceiling and white-paneled walls, feels like the inside of a yacht.
Chef and co-owner Alain Allegretti comes from Nice—whose denizens, M. F. K. Fisher once remarked, know how to eat and drink better than any of us. Mr. Allegretti's menu is, naturally, from Provence, but this restaurant is no casual corner bistro. He takes a classic, well-trodden dish and transforms it.
"Is it too boring of me to order the roast chicken?" asked my companion as we looked at the menu. The chicken, tender enough to eat with a spoon, came with mozzarella wrapped in eggplant, potatoes fondant, roasted tomato and a marvelous lemony chicken jus with white wine, capers and parsley. So much for boring.
In Mr. Allegretti's hands, a Niçoise salad was no clunky bistro version, either, but looked as though it had been made by a team of elves, with baby vegetables arranged on the plate garnished with a hard-boiled quail egg and rare tuna. (The tuna would have given Julia Child pause; she firmly believed a true Niçoise should be made only with canned.) The ravioli was stuffed with oxtail, and came on a bed of glazed swiss chard in a beef jus. A sprinkling of candied orange peel brought the whole dish together, the way a painter might put a dab of red on a landscape.
IN WHAT SOUNDS like an idyllic childhood, Mr. Allegretti grew up on his family's farm, where he learned to cook with his grandmother, making fresh pasta, prosciutto and wine and pressing olive oil. He went on to work at Jacques Maximin's Le Chantecler, at Chez Chapel in Mionnay and at Alain Ducasse's Le Louis XV in Monte Carlo. In 2001 he came to New York as co-executive chef at Le Cirque 2000, and most recently was the executive chef at Atelier at the Ritz-Carlton. The food at his restaurant reflects the pedigree of the haute cuisine establishments he's worked in, but it's also robust and earthy.
You can begin dinner with a Niçoise favorite, Perugina sausage, in a rich stew of sweet pepper and onions topped with crisp, lacy panisses, the town's famous chickpea fritters. Pillows of gnocchi are coated with a spicy lamb ragout, slivered baby artichokes and pecorino cheese; spinach gnocchi accompanies juicy, rare lamb, along with favas, tomato confit and fennel gratinée, a lovely end-of-summer combo. The milk-fed veal "rumstek," three thick pink wedges on a Gorgonzola and veal jus scented with rosemary, stands to become a classic.
Since he was raised on the French Riviera, Mr. Allegretti knows his fish, but he garnishes it in unusual ways. Perfectly cooked rouget fillets are placed on a bed of paper-thin rounds of zucchini with pine nuts, red peppers and fried parsley. A waiter pours on a saffron mariniere sauce at the table so the fillets retain their crisp skin. A ceviche of bay scallops in a subtle citrus and gazpacho marinade is laced with small chunks of avocado. Diver scallops, with fennel, potatoes and Niçoise olives, are served on a green tomato and a basil broth and sprinkled with almonds.
THERE WERE SOME disappointments, but they were few: overcooked dorade, a watery Provençal fish soup. The pistou, on the other hand, was superb, with summer vegetables and a poached egg. I also loved the restaurant's small sourdough olive and pesto rolls that were brought around at frequent intervals.
Allegretti has a first-rate wine list, with selections from new, lesser-known winemakers and from regions such as Provence, Languedoc and Corsica, many at very good prices.
Desserts include grappa chocolate fondant, which is a dome of dark chocolate mousse under a layer of chocolate, served with ricotta ice cream studded with slivered almonds, and a wonderful lemon brioche with lemon chibouste. The panna cotta is flavored with licorice and served with sautéed pineapple; the crème brûlée is made with lavender honey. Meringues and anise-scented biscotti arrive with the bill.
I like the understated elegance of the restaurant: Its van Gogh palette of yellow and blue, the thin-stemmed wineglasses and the polished new mirrors along one wall that make the room feel larger. In the corner there is a limestone-clad wood-burning brick oven, which will be fired up later in the fall.
The staff (and numerous busboys) are welcoming and anxious to please. The only caveat is noise. The dining room has hardwood floors, and the tables for two are long. When the room is crowded, it is hard to hear across them.
The prices here are high and they add up. But this could become a neighborhood restaurant for some. A large apartment building by Rem Koolhaas is going up on the next block. Meltdown? What meltdown?
mhodgson@observer.com