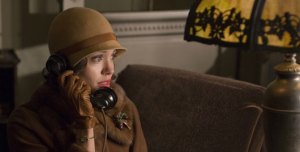 Unpack the tweed, suckers! It's time to get serious … the economy is in the toilet, the election is dragging and the sun is disappearing before cocktail hour. The upside: It's good-movie time, the seasonal cinematic equivalent of trading in your gazpacho for hearty stew.
Up first for the movie-heavy weekend of October 3 is Rachel Getting Married. Jonathan Demme directs, and Anne Hathaway (who must be officially declared as the go-to female of the moment) stars in this drama about a troubled young woman going home for her sister's wedding. Hooray for familial neurosis! Also up is the very heavy-looking (and scary) Blindness, directed by Fernando Meirelles (The Constant Gardener) with the lovely Julianne Moore and Mark Ruffalo. We were told on good authority it's like "Children of zombie men plus some sort of Wendy O. Williams prison rape movie, but you know: good!" O.K.! This very same weekend also brings Bill Maher and Larry Charles daring to take on the very icky, sticky topic of religion with Religulous; Greg Kinnear as the man who invented the windshield wiper in Flash of Genius; Michael Cera doing something twee and charming in Nick and Norah's Infinite Playlist; and the long-awaited film adaptation of Toby Young's How to Lose Friends and Alienate People. This one we're a little worried about, but with Jeff Bridges and Simon Pegg, we're willing to give it a whirl.
October 10 brings another teaming of Ridley Scott and Russell Crowe, this time with Leonardo DiCaprio (on loan from Scorsese) in the mix with Body of Lies (even without seeing it, we think they could have come up with a better title). Mr. DiCaprio plays a C.I.A. operative who no doubt dramatically clashes with Mr. Crowe. We're not going to lie … we're psyched to see these two onscreen together! Also opening, fresh from the New York Film Festival, is Happy-Go-Lucky, written and directed by Mike Leigh, about a 30-year-old elementary school teacher in North London. (Light fare, of course!) The next weekend brings Oliver Stone's much-buzzed over W., opening on the 17th. Josh Brolin stars as President Bush, Elizabeth Banks as Laura and—in a very complimentary piece of casting—Thandie Newton as Condoleezza Rice. Barry Levinson's What Just Happened? also opens, starring Robert De Niro as a fading producer, and with lots of celebrity supporting roles including Bruce Willis, and Sean Penn as himself. Expect Hollywood insider jokes. The weekend of the 24th carries with it some serious heavy hitters. There's another New York Film Festival pick, the Clint Eastwood-directed Changeling, starring Angelina Jolie as a mother whose son was kidnapped and who's convinced the boy returned to her is not her child. Then, the zany writer Charlie Kaufman has his directorial debut, with the hard-to-say Synecdoche, New York. This is a long and rather confusing movie, but filled with a ridiculously talented cast including Philip Seymour Hoffman, Catherine Keener, Emily Watson, Hope Davis, Samantha Morton, Michelle Williams and Diane Wiest. (It's Ladyfest '08!) If anyone understands the ending, please let us know! Meanwhile, Edward Norton and Colin Farrell costar in Pride and Glory, a gritty cop drama that has been kicking around for a while and is finally hitting screens.
Hey, give thanks for November! The kiddies will have something to see when Madagascar: Escape 2 Africa is released on the 7th. Don't those animals miss the comforts of the zoo, already? And then hold on to your hats, 'cause James Bond, courtesy of the blue-eyed Daniel Craig, is back in Quantum of Solace, the 22nd Bond movie. So far, all we've heard about this one is Jack White's theme song. The same weekend brings about the adaptation of The Road, starring everyone's favorite movie star Viggo Mortensen. Directed by John Hillcoat (and adapted from the Cormac McCarthy novel), this is about a father and son trekking along through a totally, completely burned out United States. (Seriously, this should be way freakier than I Am Legend!) Sigh. It also stars Guy Pearce, Charlize Theron and Robert Duvall. Major Oscar-baiting comes with The Soloist, from director Joe Wright (Atonement) about a schizophrenic homeless musician (Jamie Foxx) who encounters a journalist (Robert Downey Jr.) who tries to help him get back on his feet and—uh-oh—"make his dreams come true." Just how many movies can Robert Downey Jr. be in, we ask you? With Harry Potter getting pushed to next year, our money is on the other runaway teen fiction success story, Twilight, by Stephanie Myer, which rounds out the weekend. Kristin Stewart (who looks a lot like Meg Ryan sometimes, and who we think will be a major star) plays Bella, a young girl who falls in love with a very handsome vampire (Robert Pattinson, otherwise known as Cedric from Harry Potter). Sure, this might be ground covered before, but you know what? Still interesting!
We come to the big Thanksgiving holiday weekend (otherwise known as escape from your family for two hours) with plenty of choices. There's Australia, from director Baz Luhrmann—who we haven't heard from since 2001's Moulin Rouge—reunited with Nicole Kidman, who plays an English aristocrat who inherits a Northern Australia ranch right before WWII and is forced to team up with the handsome help (Hugh Jackman) to drive 2,000 cattle to safety. Expect bombing and romance and big beautiful epic-ness aplenty. In one of the more unlikely romantic comedy pairings, there's Four Christmases with Vince Vaughn and Reese Witherspoon, playing a couple who try to visit all their respective divorced parents in one day. Think that one might ring familiar?
But for us at least, it's all about Milk. Director Gus Van Sant's trailer has already won our hearts—Sean Penn portrays gay San Francisco hero Harvey Milk, and it co-stars James Franco, Josh Brolin, Diego Luna and Emile Hirsch, all of whom have interesting '70s hair on their heads or faces. Man, this one looks good!
We don't have time or space to even think about December (Revolutionary Road! Frost/Nixon! The Wrestler! Doubt!) yet. Yet! But we can say there'll be plenty to look forward to in winter besides presents.
svilkomerson@observer.com