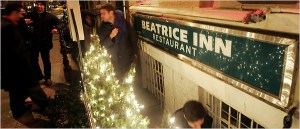 Neighbors protesting the trendy Beatrice Inn's effort to renew its liquor license were outraged last week to find out that they were effectively wasting their breath.
By the time the issue had come to local Community Board 2 for a vote on Sept. 18, the hip celebrity hangout's renewal had already been approved by the State Liquor Authority .
"Advise us on how to get rid of this place," pleaded one aghast neighbor.
Raymond Lee, chairman of the board's SLA committee, explained that there was really little that the panel could do because — despite allegations of the popular hot spot's "coke den" reputation — the Beatrice on 285 West 12th Street had no record of violations with the SLA (an apparent prerequisite for nixing a renewal).
Nonetheless, the board passed a resolution asking the SLA to investigate whether the Beatrice is operating in violation of its officially stated "method of operation."
As one incredulous critic put it, "How does an old-line Italian restaurant transfer to an 11 p.m. to 4 a.m. nightclub?"
Beatrice Inn co-owner Matt Abramcyk said he has made several efforts to address neighbors' concerns, including outfitting upstairs apartments with some $40,000 worth of soundproofing.
The Beatrice has also agreed to rope off its staircases to prevent people from lingering on the steps and also to put signs outside directing taxi drivers to not loiter out front.
The venue has further agreed to consider additional measures, including closing on Sundays and cutting off alcohol sales at 3:15 a.m.