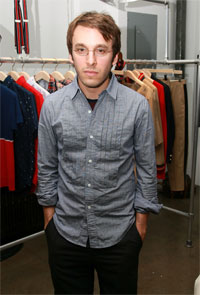 Also on Saturday, Sept. 6: the scene in the lobby of the building at Scott Sternberg's Band of Outsiders show at Milk Studios in the Meatpacking District was, in a word, miserable.
Since the elevators were only allowing 15 people in at a time, a near riot was forming as security asked the damp crowds to "step back, step back, step back."
Upstairs, instead of using models to present his Spring '09 collection for women and men, Mr. Sternberg, a former Hollywood agent, had enlisted downtown darling Kirsten Dunst, rapper Charles Hamilton and British actor Max Minghella. They had been pre-filmed for several large scale video installations that were projected onto the walls as guests thumbed through the racks of clothing.
In the video, Ms. Dunst walks across the screen in slow motion—always in her black Ray Bans, along with pieces like a navy blazer with gold buttons and cuffed shorts paired withdifferent-colored stilettos —talking on her cell phone, smoking, motioning at something with her dainty finger, looking at the audience, sometimes laughing or flirting. The whole thing felt more like an art installation than a fashion presentation.
"It's just more of the same stuff that I do–reapproaching American sportswear but trying to do it in a way that feels sort of loose," Mr. Sternberg said.
"She's rad, she beautiful," he added of Ms. Dunst, who apparently showed up after the Daily Transom had departed (sniff!). "The collection is in part inspired by an old show called TV Party that Glenn O'Brien hosted. Debbie Harry was a character on the show and Kirsten sort of has the same vibe as Debbie Harry." (Mr. O'Brien, the Interview writer and editor, was also wandering around the space, checking out images of Ms. Dunst strutting across the wall.)
Mr. Sternberg said that he asked the actress to participate through her manager, whom he knows very well.
And how did Ms. Dunst respond?
"She said: 'great, rad, you rock,'" the designer replied.