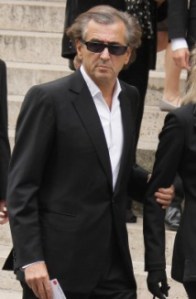 Famous French intellectual Bernard-Henri Lévy is optimistic about Barack Obama's chances in November. "My feeling is that Barack Obama will win this election from far," he said last night at the 92nd Street Y. A native French speaker in the next seat assured me he meant "by far."
This, by the way, was not a "prediction," which Levy pointedly refused to make when asked to do so by the moderator, Sam Tanenhaus, the author and New York Times editor.
"Not a prediction," he said, "but a bet."
He wore one of the custom white shirts he wears at all times (rumored to cost $700) and a slim-fitting black suit, with no tie, and he made almost constant outward-reaching circular motions with his left hand, as if imploring the audience to understand him. His hair looks like a cross between Graydon Carter's and Donald Trump's.
Lévy put Obama among the top intellectual American "voices" of "our time," but clarified, "he's not an intellectual." (Salman Rushdie, Paul Berman, Francis Fukuyama and Christopher Hitchens also made the list, although as Tanenhaus noted, two of the four American intellectuals he named are British).
Obama "deserves the huge support he's getting," Lévy said.
It should be pointed out that Lévy, a contrarian writer who Tanenhaus described as a "global intellectual," does not categorically endorse candidates he likes personally. When Nicolas Sarkozy, who Levy described as "not, say, a friend, but sort of a buddy," asked for an endorsement, he was told that "friendship is one thing, politics is another."