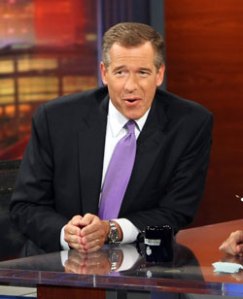 On the evening of Sept. 16, Brian Williams was jetting out of the CNBC studios in Englewood Cliffs, N.J., when he stopped to talk to a reporter about his extraordinary day.
The Dow Jones Industrial Average had plummeted 504.48 points in the most precipitous loss since September of 2001, dogged by news of Lehman Brothers' bankruptcy, Merrill Lynch's hasty weekend sale to Bank of America, and A.I.G.'s still-uncertain future.
And Mr. Williams had broadcast his Nightly News program from a studio at NBC's 24-hour cable business news channel.
"I don't want to sound self-centered, but it was very important to me. I called my executive producer Alex Wallace last night at, like, 11 Eastern and I said, 'I know where we need to be.' We talked about being live from the New York Stock Exchange, Lehman Brothers—you can throw a rock at it from 30 Rock, that would've been easy—but this, to me, is the coverage of the American economy."
Earlier, he was seated at an anchor desk in the middle of a vast newsroom floor that doubles as a working studio, the cameras trained on him, writing his headlines, preparing to report. He'd never broadcast Nightly News from CNBC before.
 "If you stripped off this whole layer of the credit crunch thing, I would go back to having an incredible job," said Steve Liesman, senior economics reporter at CNBC.
Mr. Liesman, a former Wall Street Journal reporter like many others at the nearly 20-year-old business news network, had been covering the story all weekend, filing dispatches for the Web site, appearing on Nightly News, working the phones, participating in a last-minute half-hour Sunday night special that eventually stretched to three hours, ending at 11, when coverage was handed over to the Asian bureau. He'd managed to squeeze in an hour in the pool with his kids at home in Pelham, N.Y., on Sunday, before appearing on-air again at 5 a.m. Monday and at least once during almost every hour since. Midafternoon, he seemed astonishingly relaxed, fielding phone calls from his cluttered cubicle on the quiet second floor of CNBC's expansive, spaceshiplike offices in a flashy yellow tie and expensive-looking suit, his bald head having been buffed numerous times already by the on-set groomer. Mr. Liesman, who covers the Fed, had a large nameplate on his desk: Ben S. Bernanke, it read. 
He was due on-air again in nine minutes. "I don't want to be immodest here, but I think we're kicking butt," he observed.
"I was in the control room at the Today show on 9/11, and it feels a lot like that," said Jonathan Wald, CNBC's stoic, young-looking senior vice president of business news and a former Today producer, as he drank a can of Diet Coke with lime in his office overlooking the newsroom. "Where so much is happening, you're not really sure, it feels like it's happening for the first time; you need as many smart people around you as possible to help explain it and help put it into context." He compared his reporting team to "Murderer's Row on the 1927 Yankees."
The Web site had already seen its best day ever, with 11.6 million hits and six hours still to go in the day. (The final tally: 14,615,227.) The daytime business broadcasts would be the most watched since Sept. 17, 2001, when the markets reopened after the terrorist attacks. "I think this is among the most critical times in the history of the network," CNBC's president, Mark Hoffman, had said earlier, in his office overlooking New Jersey's Route 9W.
The newsroom was buzzing over the success of a growing list of triumphs in its coverage of the current disaster: the lengthy, hastily assembled program Sunday night, a Maria Bartiromo exclusive earlier that day with Ken Lewis, head of Bank of America and "the new king of Wall Street," and a smaller coup by reporter Michelle Caruso-Cabrera, who had BlackBerried an NBC reporter at Treasury Secretary Hank Paulson's press conference from the White House Monday and prompted her to ask the question on CNBC's mind—does Mr. Paulson support the Fed giving A.I.G. a bridge loan? "He equivocated, but we got it asked," said Ms. Caruso-Cabrera, heading home before Nightly News to prepare for another 5 a.m. morning, after getting two hours' sleep Sunday night. She called the day "breathtaking."
Mr. Williams' Nightly News countdown began, and he proceeded to quiz several CNBC personalities on-air about the crisis, among them Erin Burnett, the young, perky breakout star poached from Bloomberg who has been called the new Money Honey, a reference to her status as possible successor to established CNBC star Maria Bartiromo (who was reporting off-site from the N.Y.S.E.).
Ms. Burnett had been working all weekend—"I think everyone feels a little bit exhausted," she had said—and was to leave town Tuesday for a friend's wedding in the south of France, where she would continue to report remotely. (As of Tuesday morning, CNBC said she'd in fact be reporting from Englewood Cliffs for the rest of the week.) "You gotta be available when you gotta be available," she shrugged.