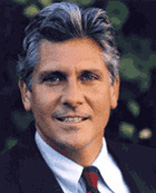 There's at least one mayoral candidate who is not going to run against Michael Bloomberg: Republican Bruce Blakeman.
Speaking CW11 this morning, Blakeman said, "I'm still running because the law hasn't changed yet." He went on, "There is only one person more qualified than me to be mayor, and that's Mike. So, obviously if they did change the term limits I certainly would not oppose him in a Republican primary."
Whether or not other mayoral candidates would abandon their campaigns if the wealthy, popular, incumbent Mayor Bloomberg decides to run again has been a topic of speculation. Christine Quinn and Bill Thompson have declined to say what they would do; Anthony Weiner has said he is running no matter what Bloomberg does.
Blakeman is the only candidate besides Tony Avella to have officially announced for the race.
In a follow-up statement to me, Blakeman said, "Make no mistake, I am running for Mayor and I plan to win. However should the law change and Mike decides to seek a third term, I would not challenge him." 
Blakeman, a lawyer and former Port Authority commissioner, has a decent chance of taking the G.O.P. nomination, although billionaire John Catsimatidis has been working with grassroots Republican operatives and could give Blakeman a competitive race.