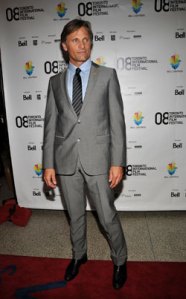 The annual Toronto International Film Festival, a.k.a. TIFF, is usually the barometer that tests the temperature of the coming movie year. But this year, the 33rd installment has tested a whole lot more: patience, I.Q.'s, trash resistance, and bladder control. Film festivals (and let's face it, there's one in every town) have good years and bad years. For Toronto, this is a bad one. Veterans who have been coming here for decades all agree. The fun days when fans and critics and movie moguls all stayed in the Sutton Place Hotel and turned the Bistro 990 across the street into their local commissary, trading anecdotes with John Cassevetes and hanging out with Clint Eastwood, are only memories, like first marriages.  
With 1,200 press and industry passes tightly clutched by mobs fighting to see more than 300 movies in 10 days, the thing is so over-programmed that you face at least five schedule conflicts per hour. Not satisfied with glut, the Canadians moved on to über-glut. Spreading the TIFF circus from one end of town to the suburbs, Toronto staged three other film festivals at the same time and blocked off an entire square to show free movies like Citizen Kane to the unwashed masses with empty wallets and no entree to the main events. Hotel room rates have tripled from what they are the rest of the year; Canadian suburbanites in convertibles cruise the streets looking for celebrities; loitering American tourists in knockoff sunglasses block the entrances and exits to every screening; and teenage gawkers litter the sidewalks hoping for a glimpse of Brad Pitt. But it's hard to spot the major players with any kind of legitimate reason for being there, and the real stars sneak in and out of back doors, surrounded by bodyguards. But still they come. Anne Hathaway, Michael Caine, Debra Winger, Julianne Moore, Susan Sarandon and Tim Robbins, Mark Ruffalo, Ed Harris, Renée Zellweger, George Clooney, Jeremy Irons, Greg Kinnear, Keira Knightley, Ralph Fiennes, Liam Neeson, Antonio Banderas, Laura Linney, Colin Farrell—looking like a slimy troll in sandals and a toque; they came, they fled. The parties this year have been dismal, the bar bills astronomical, the food all served on sticks. (I never want to see another chicken kabob again as long as I live.) Assaulted at every red light by press agents selling, marketing moguls buying, and the ubiquitous publicity hound Paris Hilton, sucking up paparazzi oxygen, I escaped to TIFF's most prized invite—the famous yearly chicken-pot-pie lunch at the Four Seasons staged by veteran Hollywood columnist George Christy, where I rubbed elbows with Norman Jewison and such non-showbizzy folk as ex-prime minister of Canada Brian Mulroney and Robert F. Kennedy Jr. 
In addition to plugging moves, the TIFF has become a magnet for everyone with a cause to promote or a product to launch. Terrified of missing out on something, people who haven't made a movie in years arrived to pose. Shirley MacLaine flew in from Santa Fe to accept a humanitarian award. Matt Damon hosted a charity benefit to raise money for needy children. A visibly ill Michael J. Fox unveiled a star in his name on Toronto's Walk of Fame. You see everything at the TIFF. Boy George acted as DJ at one club venue where Lindsay Lohan sucked face for the cameras with girlfriend Samantha Ronson; hordes of screaming rockers jammed the rap party hosted by Sean Combs, a.k.a. Puff Daddy or P. Diddy or whatever it is he calls himself now. Three pop divas—Queen Latifah, Jennifer Hudson, and Alicia Keys—graced another party but did not sing a note. The TIFF, grouse the old-timers, has turned into a Hollywood shopping mall. Some of it is fun, but the sad fact must be faced: Taking a cue from the vulgarity of Cannes, the purity of joy fueled by a passion for movies that once made Toronto a kind of class reunion for serious film buffs has been replaced by gridlock and greed.
But what—you have a perfect right to ask—about the movies? The projectors never stop running. Even the subway system is showing what it called a "fun and free alternative to TIFF," running one-minute films across a digital network of screens in 300 subway station platforms. Polite to the outer limits of exasperation, Canadians will sit through anything; good or bad, they applaud everything. The opening night film is traditionally Canadian, which gives everyone a night off. It's the first and last time you can eat a proper meal in the ecstasy of leisure. This year it was Passchendaele, an epic about the slaughter of 5,000 Canadians on the World War I battlefields of Belgium in 1917. What a bore, and Stanley Kubrick did it better 50 years ago with Paths of Glory. Next came Burn After Reading, an alleged Coen brothers comedy with a criminally wasted all-star cast that is never remotely funny—more cornball than screwball. Part campy pastiche, part goofy, paranoid spy thriller, this fiasco fails to either convince or entertain at any level. Brad Pitt, sporting a doo-wop hairdo with frosted tips, is a fitness trainer who gets mixed up in a blackmail scheme involving a C.I.A. analyst (a cross-eyed John Malkovich) and a plastic-surgery-obsessed Internet dater (Frances McDormand). Brain-dead performances by George Clooney and Tilda Swinton never deliver the laughs this misguided mess desperately needs. It's a miserable experience. The Coens have a habit of following serious, well-made, critically acclaimed films (Blood Simple, Fargo) with idiot farces (The Big Lebowski). But treading water on the heels of the Oscar-winning No Country for Old Men with a lame, insipid, ludicrously overacted load of junk like this is inexplicable, nose-thumbing career lunacy. Worse still was the incomprehensible Synecdoche, New York, a bucket of rancid swill as pretentious as its unpronounceable title, a directorial debut not so much lensed as regurgitated by the dismally untalented Charlie Kaufman, who writes movies about how he can't write movies. So what makes anyone think he could direct one? Showcasing a repulsive performance by Philip Seymour Hoffman that is beneath discussion, it was generally considered the most contemptible of all the 300-plus films in Toronto, not even rising to the standards of an Australian shocker called Not Quite Hollywood: The Wild, Untold Story of Ozploitation! It described an "Ozploitation" flick as full of "boobs and pubes" and promised a "full-frontal explosion of sex, violence and horror!" Takes one to know one.
Amid the paranoia surrounding the search for Toronto's latest serial killer and Sarah Palin-inspired editorials excoriating soccer moms, the daily newspapers during the TIFF vibrated with buzz that Téa Leoni bailed from the premiere of her new movie Ghost Town because she was too embarrassed by husband David Duchovny's high-profile check-in for sex addiction to make a public appearance. What nonsense. I'm convinced she canceled for a much better reason: She saw the picture. Directed by writer David Koepp (Jurassic Park), this sub-mental bomb is about a Manhattan dentist (played by porcine TV question mark Ricky Gervais) who dies for seven minutes in the middle of a colonoscopy, leaving him with the ability to see dead people, and resulting in a series of awkward scenes in which he talks to a lot of noisy, pushy ghosts nobody else can see. These lost souls, wandering the earth with unfinished business in search of a mortal who can act as intermediary, include an obnoxious cheating husband (Greg Kinnear, in his first unbearable role) who needs to ease his wife's pain so he can rest in peace. When the dentist himself falls in love with the angry widow (Téa  Leoni), a museum curator who specializes in preserving the penises of Egyptian mummies, he starts three-way conversations only two people can hear. Then he dies again, and … oh, the agony of it all. Rare audience members who sat through the whole thing were left with a serious need for a dose of the dentist's nitrous oxide themselves.