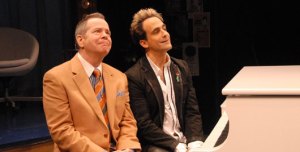 David Pittu's What's That Smell: The Music of Jacob Sterling, at Atlantic Stage 2, is an affectionate, somewhat familiar, campy spoof about a perpetually aspiring Broadway composer who has no talent. It's billed as a World Premiere. Small world, isn't it?
Campy parodies of bad musicals are as current as the kitschy celebration of the third-rate in Xanadu, while long-forgotten musicals are frequently elevated to cult status by City Center's Encores! series. The show queen's scholarly delight in Broadway flops is the theme of the recent hit Broadway musical The Drowsy Chaperone (the sendup of a forgotten 1920s musical whose model was Sandy Wilson's delightful 1954 pastiche The Boy Friend).
That learned reference I just threw in to impress you is what Leonard Swagg, What's That Smell's endearing old queen and host of a low-budget cable TV show titled "Composers & Lyricists of Tomorrow"—or "CLOT"—likes to call a "fun fact."
Mr. Pittu's undeniably swishy Swagg is played by the indispensible Peter Bartlett, who famously played the undeniably swishy host of a low-budget cable TV show in Paul Rudnick's now immortal Mr. Charles, Currently of Palm Beach, which premiered in 1998 and was revived last season at Lincoln Center. (Fun fact: Mr. Bartlett played Underling the butler in The Drowsy Chaperone.)
Charles (of Palm Beach) is the spiritual heir to the flamboyantly effeminate Quentin Crisp, and I'm glad to say that Mr. Bartlett's Leonard appears to be a close relative of Charles, minus the canary yellow jacket and lime green pants. Leonard looks almost professorial in his subdued rustic browns when he first appears to welcome us with an appalling song:
On my show we get to know
A new exciting artist
Spinning songs and dreams just so
We might reach catharsis.
He breathlessly introduces Jacob Sterling, né Silverstein (David Pittu), "the gay Jewish-American theater artist" who's his "dear friend and hero":
"My has-been guest tonight—my guest tonight has been prominently up-and-coming for over 20 years," Leonard tells us, and Mr. Pittu's 40-something Jacob enters looking like a fruitcake from Project Runway dressed in Versace knockoffs.
"Thank you, Leonard, I feel welcome here, and very supported and safe," he says, settling down on one of the white vinyl armchairs. "And that's a wonderful feeling for a living American musical theater composer in the age of terror."
The Tony-nominated David Pittu is one of our leading character actors—and this is the surprising thing about his performance. He doesn't play Jacob as camp in any way. While you don't have to be gay to be a show queen, Mr. Pittu is suggesting that it helps, and drolly plays his clueless gay composer straight.
Outer camp is left in the fluttery hands of Mr. Bartlett's Leonard as he guides his star guest through his life story along with selections from his songbook, which Mr. Pittu performs with frightening sincerity at the white baby grand piano.
"And once again—pure alchemy!" Leonard exclaims ecstatically after another of his terrible show tunes titled, say, "Let Me Taste The World" or "The Sound of Human Loving." There's a touching quality to the incurably second-rate—but the horrible truth is that Mr. Pittu's parodies sound uncomfortably like the real thing on Broadway.
(Fun fact: The ABBA stage musical Mamma Mia! has thus far grossed over $2 billion globally.)
"DID YOU FEEL that lift in the audience just now when you said the word 'Broadway'?" our irrepressible host asks. Leonard, who once wrote the libretto of a failed musical—Easy Does It, an adaptation of the '60s play, The Marriage-Go Round—can also tell us with scholarly authority: "New York City is to the composer what fruit is to a painter." And he can ask us, for no apparent reason, "Has anyone ever read Dory Previn's memoirs?"